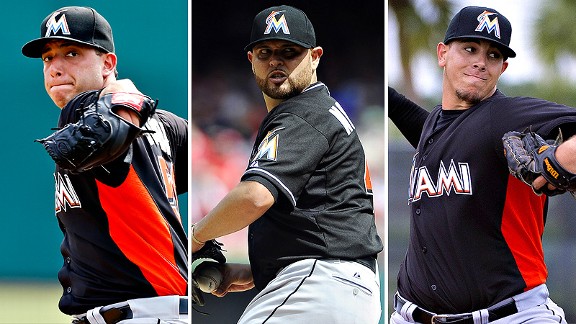 USA TODAY Sports
The Mets face (l to r) right-handers Alex Sanabia, Ricky Nolasco and Jose Fernandez this weekend.
METS (2-1, second place/NL East) vs. MIAMI MARLINS (0-3, fifth place/NL East)
Friday: RHP Jeremy Hefner (0-0, -.--) vs. RHP Alex Sanabia (0-0, -.--), 7:10 p.m. ET
Saturday: LHP Jonathon Niese (3-5, 2.70) vs. RHP Ricky Nolasco (0-1, 3.00), 1:10 p.m. ET
Sunday: LHP Aaron Laffey (0-0, -.--) vs. RHP Jose Fernandez (0-0, -.--), 1:10 p.m. ET
Marlins short hops
• Jose Fernandez, the 14th overall pick in the 2011 draft out of high school in Tampa, will make his major league debut Sunday. The 20-year-old right-hander went a combined 14-1 with a 1.75 ERA in 25 Class A starts last season between Greensboro and Jupiter.
The Marlins opted to use the rookie with Nathan Eovaldi and Henderson Alvarez on the disabled list, both with shoulder inflammation.
Fernandez arrived in the U.S. from Cuba by boat as a refugee in 2008. In preparation for Sunday's start, Fernandez threw a simulated game Tuesday in D.C., with first-year manager Mike Redmond and hitting coach Tino Martinez acting as batters. Both are not that far removed from major league careers.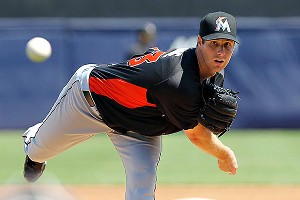 Kim Klement/USA TODAY Sports
John Maine made the Marlins' Opening Day roster. He last pitched in the majors in 2010 with the Mets.
• Ex-Met John Maine made Miami's Opening Day roster as a reliever. He did not appear during the season-opening series at D.C., so his first major league action since his Mets days may come this weekend at Citi Field. Maine last threw a big league pitch on May 20, 2010 in Washington. It was after that abbreviated outing that pitching coach Dan Warthen called Maine a "habitual liar" with respect his truthfulness about injuries. Maine went 2-0 with a 2.63 ERA in six games during spring training. He struck out nine and walked nine in 13 2/3 innings.
• Fellow ex-Met Jon Rauch signed a one-year, $1 million free-agent contract with the Marlins on Feb. 5.
• Miami, which completed its latest fire sale during the offseason, mustered only one run while getting swept in a season-opening three-game series at Nationals Park. The Marlins became the first team to total no more than one run in the team's first three games since the 1988 Orioles (also one run), according to ESPN Stats & Information. The '88 Orioles opened that season 0-21.
• Third baseman Placido Polanco batted cleanup the first two games of the season. He had never started a game in that slot previously in his 16-year career.
• First baseman Casey Kotchman will land on the disabled list Friday, two days after straining his left hamstring. He becomes the third first baseman the Marlins have lost this season. Logan Morrison (knee surgery) is on the 60-day DL, while Joe Mahoney is on the 15-day DL with an intercostal strain. Among the flurry of moves last season, the Marlins traded first baseman Gaby Sanchez to the Pittsburgh Pirates last July 31.
Greg Dobbs should handle the bulk of the first-base duty for now, while Austin Kearns and rookie Chris Valaika may see action at the position, too.
• Giancarlo Stanton, the lone remaining threat in Miami's lineup, led the NL in slugging percentage (.608) and finished second to Ryan Braun in homers last season, with 37. Stanton now has 93 career homers, matching Frank Robinson for fifth-most in MLB history before turning 23. The only players with more: Mel Ott (115), Eddie Mathews (112), Tony Conigliaro (104) and Alex Rodriguez (95).
• Catcher Miguel Olivo signed with Miami on March 29 after playing in 21 games for the Cincinnati Reds during spring training. Jeff Mathis suffered a broken right clavicle early in spring training.
• In the Nov. 19 trade that sent Jose Reyes, John Buck, Emilio Bonifacio, Mark Buehrle and Josh Johnson to Toronto, the Marlins received minor leaguers Anthony DeScalfani, Jake Marisnick and Justin Nicolino as well as Alvarez, Yunel Escobar, Adeiny Hechavarria and Mathis. Reyes bristled during spring training at Marlins owner Jeffrey Loria, after Loria denied advising Reyes days before the trade to buy a house in Miami.
• Alex Sanabia, 24, will make his first major league appearance since Sept. 24, 2011 in the series opener. He went 6-7 with a 4.06 ERA in 17 starts last season at Triple-A New Orleans, where he also had three DL stints.