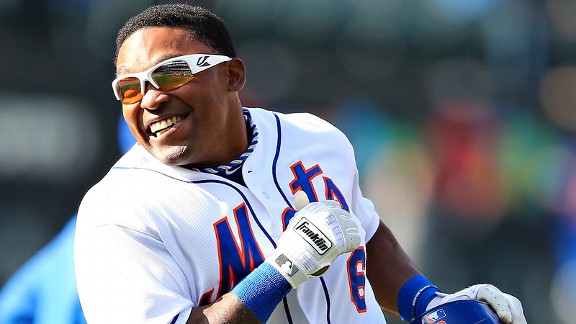 Al Bello/Getty Images
Marlon Byrd reacts to delivering a game-ending two-run single in the ninth to beat the Marlins, 4-3.After getting released by the Boston Red Sox last June, then serving a 50-game MLB suspension for a banned substance and not getting picked up at the end of the season, Marlon Byrd revived his career in the Mexican League during the winter.
He contributed his biggest hit since joining the Mets on Sunday afternoon.
After Ruben Tejada was hit by a pitch with one out in the ninth and alertly went first-to-third on Kirk Nieuwenhuis' single to take advantage of left fielder Juan Pierre's weak arm, Byrd singled inside the third-base bag against Marlins closer Steve Cishek. That plated both teammates and lifted the Mets to a 4-3 win at Citi Field.
Byrd, 35, produced his first walk-off RBI since Sept. 16, 2011, when his run-scoring infield single in the 12th lifted the Cubs past Houston.
The come-from-behind win gave the Mets a 4-2 homestand against the San Diego Padres and Marlins and provided Scott Rice with his first major league win.
After starting the first four games of the season, Byrd did not play Saturday and came off the bench Sunday. He had struck out twice before the ninth-inning heroics.
"You come in the game. You want to help right away," Byrd said. "The 0-for-2 with two strikeouts kind of leaves a sour taste in your mouth. It was nice to come through."
Said Terry Collins: "To do what he did last winter, to try to resurrect his career by going to the Mexican League and playing winter ball, you're not going to find a lot of veterans who will do that. He knows he wants to continue to play and he knows he has a chance to make a contribution here. And I think you're going to see him as prepared as anybody for whatever role we put him in or whatever situation we put him in."