PHILADELPHIA
FIRST PITCH: Just like the Yankees, the Philadelphia Phillies are aging before our eyes.
Roy Halladay was charged with seven runs in four-plus innings Monday night against the Mets, marking the first time since 2004 he has lasted four or fewer innings in consecutive starts.
"I got a text from my son saying I am his hero," Halladay told reporters afterward. "It meant a lot."
Matt Harvey, meanwhile, became the second pitcher in Mets history to open a season with consecutive starts of seven-plus innings while allowing three or fewer hits. The other: Nolan Ryan, who opened the 1970 season with three straight such games.
Philadelphia has massive payroll commitments remaining:
Cliff Lee, at age 34, still is owed $87.5 million.
Cole Hamels, 29, $144 million.
Halladay, 36, $20 million.
Ryan Howard, 33, $105 million.
Chase Utley, 34, $15 million.
Jonathan Papelbon, 32, $39 million.
Jimmy Rollins, 34, $22 million.
Contrast that with the Mets, who have existing contracts with only David Wright and Jonathon Niese for 2014 -- plus plenty of other players under their control.
Dillon Gee and Lee meet tonight at 7:05 in Game 2 of the series.
Tuesday's news reports:
• Harvey improved to 2-0 by limiting Philadelphia to one run in seven innings and John Buck belted a three-run homer against Halladay as the Mets beat the Phillies, 7-2 in the opener. Read game recaps in the Times, Post, Daily News, Record, Star-Ledger, Newsday and MLB.com.
• Read more on Buck in the Post.
• Halladay has now allowed 12 runs in 7 1/3 innings over two starts this season.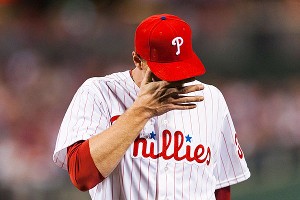 Howard Smith/USA TODAY Sports
Roy Halladay has been shelled in consecutive starts.
"Definitely command is the biggest thing," Halladay told reporters afterward. "When you're really trying to force the ball to a spot instead of letting a ball go there, the more it goes away from there. I'm going up there thinking 'I gotta get ahead. I gotta get ahead. I gotta get ahead.' Ball one. 'Crap.'
"It's a mental game, and you'll fight yourself. I've overcome it in the past and I plan to overcome it now.
"One of my biggest mentors, [the late sports psychologist] Harvey Dorfman, told me if you're trying to catch a bird, if you're flailing at it, you're never going to catch it. You have to let it land in your hands. It's the same way with pitching. The more you're grasping at it, the more you're reaching for it, the harder it is to get it, especially when you want it so bad."
Read more on Halladay in the Times, Philadelphia Inquirer, CSN Philly and South Jersey Times.
• Aaron Laffey should get several starts in the rotation in place of Shaun Marcum, although the Mets plan to wait until next Tuesday at Colorado for Laffey's next turn. Read more in the Star-Ledger, Journal, Daily News and MLB.com.
• Jeurys Familia picked up his first professional save in Las Vegas' 4-3 win at Fresno. Logan Taylor tossed five scoreless innings in his Savannah debut, but the Gnats lost to Augusta, 6-5. Zack Wheeler makes his second Las Vegas start tonight at 10:05 ET, opposite Fresno's Yusmeiro Petit, a former Mets farmhand. Read the full minor league recap here.
• Frank Francisco (elbow) is not particularly close to joining the Mets from the disabled list. Read more in Newsday and the Record.
• The Mets are unlikely to pursue Aaron Harang, writes Mike Puma in the Post. Harang was obtained by the Colorado Rockies and then designated for assignment.
• Daniel Murphy is hitting .308 a week into the season, despite getting only 10 Grapefruit League at-bats because of an intercostal strain on his right side that sidelined him for several weeks of spring training. Read more in the Times.
• David Wright tells Jared Diamond in the Journal that Ruben Tejada is a Gold Glove-caliber shortstop, despite Tejada picking up four errors in the season's first week.
• Bill Evans in the South Jersey Times features Mets sidearmer Greg Burke, who grew up in the Philly suburb of Bellmawr, N.J.
• From the bloggers … Shannon from Mets Police enjoys the new uniform combinations, but thinks the Mets should wear them sparingly. … John Delcos at Mets Report advocates Mike Baxter as leadoff hitter.
BIRTHDAYS: Australian-born reliever Graeme Lloyd turns 46.
TWEET OF THE DAY:
I am sitting here watching @mattharvey33 ... this kid is better than advertised...looking forward to watching him every5th day

— Dwight Gooden (@DocGooden16) April 9, 2013
YOU'RE UP: Are the Phillies headed for a long few years?