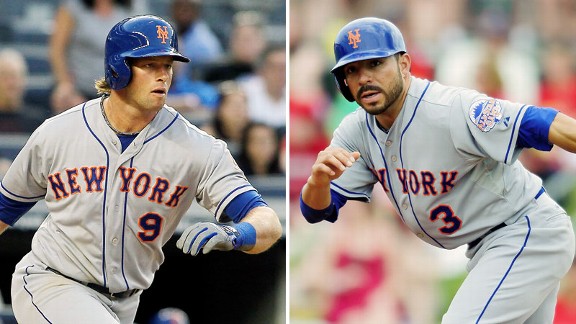 Getty Images/USA TODAY Sports
The Kirk Nieuwenhuis-Omar Quintanilla roster decision will need to be revisited at some point this month.
PHILADELPHIA -- How long can the Mets go without a true backup shortstop?
At least a little longer, according to manager Terry Collins.
In an unexpected maneuver at the end of spring training, the Mets left backup shortstop Omar Quintanilla off the Opening Day roster, which allowed them to carry extra outfielder Kirk Nieuwenhuis.
For now, that means the Mets have to be very judicious in pinch-hitting for Ruben Tejada. And they cannot really give Tejada a day off, since range-challenged Justin Turner would have to fill in.
Collins said the Mets were wary of carrying Quintanilla out of spring training in part because if they ever needed to free a spot on the major league roster and Quintanilla was the casualty, he would need to be exposed to waivers and the Mets would risk losing a valuable piece. (Quintanilla would have the right to declare free agency if he did clear waivers, too.)
Remember, last season the Mets traded Quintanilla to Baltimore when they needed to activate Jason Bay because they figured they would have lost Quintanilla via a waiver claim if they tried to demote him.
The Mets feel they can get away with not having a true backup shortstop for now in part because team off-days will allow Tejada to rest.
But something will have to give at some point, especially since the extra-outfielder Nieuwenhuis has only 10 plate appearances through seven games and ought to be playing regularly at Triple-A Las Vegas if he is not going to see consistent action.
The Mets can get an extra outfield bat into the lineup this weekend because they will play in Minnesota and use a DH. But the Quintanilla/extra outfielder issue could get more serious debate beginning next week. Or, at least, later this month.