WHAT IT MEANS: Jeremy Hefner allowed the first six batters to reach base in what became a five-run first inning and the Mets lost a rubber game to the Philadelphia Phillies, 7-3, on Wednesday night at Citizens Bank Park.
Lucas Duda homered twice and John Buck had a solo shot in the loss.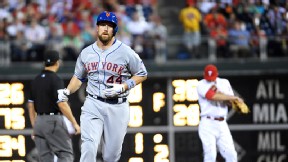 Eric Hartline/USA TODAY Sports
John Buck produced his fifth homer of the season -- matching the total of all Mets catchers in 2012.
The damage against Hefner came on a two-run homer by Chase Utley and three-run homer by Domonic Brown.
Hefner had failed to retire any of the seven batters he faced in a Sept. 20 start against the Phillies last year at Citi Field. Combine the two outings and 13 straight Phillies reached base against him over two starts.
After being charged with five earned runs on six hits and three walks over three innings Wednesday, Hefner now has a career 15.68 ERA against the Phillies in four appearances (three starts).
Since Sunday, Mets starting pitchers have logged 4 1/3 innings (Aaron Laffey), seven innings (Matt Harvey), three innings (Dillon Gee) and three innings (Hefner). That has strained the bullpen.
LaTroy Hawkins surrendered a two-run homer in the sixth to Laynce Nix to push Philadelphia's lead to 7-2.
The game included a 27-minute rain delay in the fourth.
BUCK O' FIVE: Buck mashed his fifth homer of the season, a solo shot in the second against Kyle Kendrick that pulled the Mets within 5-1. Buck's long-ball total matches the total the Mets received from all of their catchers in 2012 (Kelly Shoppach 3, Josh Thole 1, Mike Nickeas 1).
The Mets have now homered in all nine games, establishing a new franchise record to open a season. They went deep in eight straight to begin the 1987 season.
Buck's 15 RBIs are two shy of matching his career high for a month (17 in August 2004). He has homered in three straight games for the first time in his career.
'SPINSANITY: After Buck's second-inning homer, the Mets loaded the bases trailing 5-1. But Hefner and Jordany Valdespin consecutively struck out looking to end the threat.
Valdespin had fouled off three full-count pitches before being called out on strikes on a borderline pitch deemed on the inside corner by plate umpire John Hirschbeck.
Valdespin did finish with a career-high three hits (all in the infield). And he had a stellar play in center field. He charged in to take away a potential bloop hit from Erik Kratz that ended the third inning and left the bases loaded.
Duda's solo homer in the fourth pulled the Mets within 5-2. Justin Turner, pinch-hitting for Hefner, stranded Mike Baxter at third base with an inning-ending groundout that frame and the Mets got no closer.
MUPHY'S FLAW: In the fifth, the Mets had two runners in scoring position with one out after Kendrick delivered a wild pitch. But on Ike Davis' ensuing flyout to shallow center, Daniel Murphy started toward third base and did not retreat in time. He was doubled off second base by center fielder Ben Revere.
WHAT'S NEXT: The Mets fly into wintery Minnesota tonight and spend Thursday's off-day in the Twin Cities. Several players plan to watch the NHL's Minnesota Wild and St. Louis Blues face off. Jonathon Niese (1-0, 2.13 ERA) opposes right-hander Vance Worley (0-1, 5.73), a former Phillie, in Friday's series opener. Weather permitting.