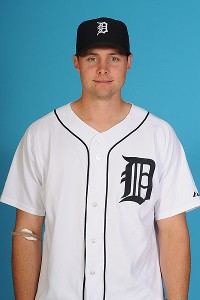 Courtesy of Detroit Tigers
Shawn Teufel has joined the Binghamton Mets.
DENVER -- Left-handed pitcher Shawn Teufel, the son of Mets third base coach Tim Teufel, has been assigned to Double-A Binghamton.
Teufel signed with the organization last month after being released by the Detroit Tigers.
Teufel originally was drafted in the 25th round by Detroit out of Liberty University in 2010.
The 26-year-old southpaw primarily pitched at Class A Lakeland last season, where he posted a 5-7 record and 6.64 ERA in 22 appearances (18 starts) with the Florida State League club.
One career highlight for Teufel came in 2011, when he was borrowed from Class A to pitch for Triple-A Toledo in a spot start. Facing his father's Buffalo club, the younger Teufel tossed six scoreless innings and earned the win.
Binghamton also sent lefty Adam Kolarek to Triple-A Las Vegas and placed Cory Mazzoni on the DL.
UPDATE: Tim Teufel says his son has converted to a submarine-style throwing motion with the Mets.