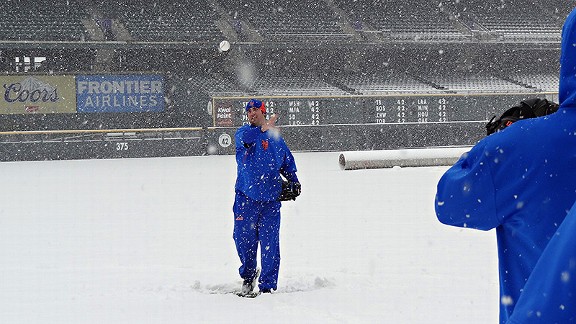 Adam Rubin
Matt Harvey throws in the snow to keep his arm in shape Monday afternoon at Coors Field.DENVER -- The Mets-Rockies game Monday night has been snowed out. The teams will attempt to make it up as part of a split doubleheader Tuesday, with start times at 3:10 and 8:40 p.m. ET.
Dillon Gee, who was scheduled to pitch Monday, will pitch the afternoon game Tuesday. The forecast is particularly bad, with more snow expected, for the night game. If the night game materializes, Terry Collins said he was undecided about whether to use Jeremy Hefner or Aaron Laffey -- although Hefner appears more likely.
Collins said he did not plan to disrupt the throwing schedule for Matt Harvey regardless of postponements in Denver. So Harvey continues to line up for Friday's game against the Washington Nationals, who are expected to start Stephen Strasburg in the series opener at Citi Field.
Tuesday's forecast is for a high of 44 and a low of 31, with rain changing to snow during the day.
Collins said he hopes the Mets can get three of four games in before the Mets leave Denver late Thursday.
The Mets had Sunday's game in Minnesota postponed because of wintry conditions. The last time the Mets had consecutive games postponed was Aug. 27-28, 2011, due to Hurricane Irene.
"It gets to be tough, because now your pitching is drastically affected, along with your pitching down the line here a little bit," Collins said. "It is what it is. Certainly I understand the thought process today and understood the thought process yesterday. But when you're scheduled to play in these seven days in the two towns we're in, you've got a chance to run into some bad weather this time of year. We have, and we'll just adjust.
"We've had every weather service that we could possibly get a hold of. We've had the local weather on today. We've had it on the computer. We just saw a weather report come back that this front that's going through today, the one coming in tomorrow night is worse than this one."
As for why there is a split doubleheader Tuesday to get two admissions rather than just playing straight through during daytime, Collins said that was the Rockies' call.
"This is the Rockies' stuff," he said. "That's all their decisions."