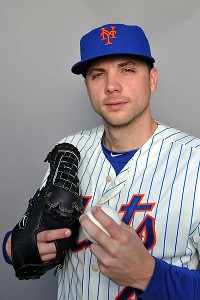 Steve Mitchell/USA TODAY Sports
Aaron Laffey is now officially scheduled to start Game 2 tonight.
DENVER -- After wavering yesterday, the Mets have decided to proceed with Aaron Laffey for the nightcap of Tuesday's doubleheader, if the game is played.
Laffey appeared for one inning in Minnesota on Friday. Otherwise, he has not pitched since last Sunday, when he allowed three earned runs on 10 hits, a walk and a hit batter in 4 1/3 innings against the Miami Marlins.
Laffey would oppose left-hander Jeff Francis in the 8:40 p.m. ET nightcap.
Dillon Gee and right-hander Juan Nicasio start the 3:10 p.m. ET opener.