Speedster Alonzo Harris took over the leadoff spot with Class A St. Lucie last May, coinciding with a 50-game suspension for teammate Danny Muno. Harris proceeded to hit .287 with eight homers, 42 RBIs and 40 steals and earned the organization's Sterling Award as the top player for the Florida State League club.
The 23-year-old Harris, a 39th-round pick in 2007 out of McComb High in Mississippi, has opened this season with Double-A Binghamton.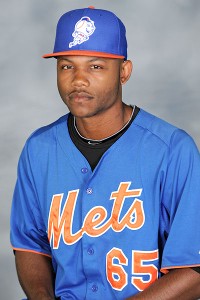 Courtesy of New York Mets
Alonzo Harris
A 5-foot-10, 160-pound outfielder, Harris is hitting .250 with a homer, five RBIs and two steals through 48 at-bats as a B-Met.
Harris is a natural shortstop. The first time he played outfield came in the Mississippi Senior All-Star Game in 2007.
The Mets used him nearly exclusively at second base through 2010. Now, Harris has transitioned to nearly full time outfielder -- primarily center field, with some left field.
"It was easy, actually," Harris said. "I didn't have to worry or think about turning double plays. … It was an easy transition. The only thing different is making the throws. I was at second base for four years with the Mets. When I made my throws from second to first base, I had time for a nice, easy flip. When I'm in the outfield I have to make a longer throw, so my transition from throwing that short distance to stretching my arm out was the only big difference I had.
"Everything else fell right into place, like I had been playing all my life.
He added: "If anything happened, they can put me in the infield. I'm ready to play infield at any time. I still take groundballs and stuff."
Harris' 2007 draft class with the Mets also included Lucas Duda (seventh round), Dillon Gee (21st), Robert Carson (14th) and Zach Lutz (fifth). So his visit to Citi Field last September to be recognized as St. Lucie's Sterling Award winner was particularly exciting because he reunited with former minor league teammates.
"I know some of them," Harris said about the Mets. "Well, most of them, because I played with them when I first started. To see the locker room and all the facilities, it opened my eyes. It made me want to work harder to get there, make that a permanent home."
Harris is particularly close to Carson. They grew up 45 minutes apart in Mississippi. They only faced each other once in high school, though. Their ninth-grade years, Harris lined out to center field against Carson.
"I call him my 'little big brother,'" Harris said. "He was born a week after me. He lives 45 minutes away. We spend almost every day together. We're really close. We work out and all that stuff. He's like family -- basically a brother, really."
Harris has played in Panama each of the last two winter-league seasons. He said that taught him concentration as well as how to read pitchers' moves while attempting to steal.
"The first year, it helped me with my concentration, because it rained every day," Harris said. "You would never know when you would be able to play. You might be getting ready for the game, and the next thing you know two hours later you had to get ready again. It was a mental learning situation for me. My mind was definitely prepared to play at any moment."
Organization leaders
Average: Brandon Nimmo, Savannah, .447; Jayce Boyd, Savannah, .383; Josh Satin, Vegas, .380; Juan Lagares, Vegas, .375; Kevin Plawecki, Savannah, .375; Andrew Brown, Vegas, .347; Gilbert Gomez, St. Lucie, .333; T.J. Rivera, St. Lucie, .319; Jeff Glenn, Savannah, .310; Josh Rodriguez, Binghamton, .297.
Homers: Josh Satin, Vegas, 4; Juan Lagares, Vegas, 2; Dustin Lawley, St. Lucie, 2; Kevin Plawecki, Savannah, 2.
RBI: T.J. Rivera, St. Lucie, 13; Josh Satin, Vegas, 12; Jayce Boyd, Savannah, 11; Andrew Brown, Vegas, 11; Kevin Plawecki, Savannah, 11.
Steals: Cesar Puello, Binghamton, 5; Brian Bixler, Vegas, 3; Gilbert Gomez, St. Lucie, 3; Stefan Sabol, Savannah, 3.
ERA: Collin McHugh, Vegas, 0.50; Rainy Lara, Savannah, 0.79; Luis Cessa, Savannah, 1.54; Matt Bowman, Savannah, 1.59; Rafael Montero; Binghamton, 2.16; Logan Verrett, Binghamton, 2.75; Jacob deGrom, Binghamton, 3.00; Hansel Robles, St. Lucie, 3.45; Erik Goeddel, Binghamton, 3.48; Domingo Tapia, St. Lucie, 3.55.
Wins: Mark Cohoon, Binghamton, 2; Angel Cuan, St. Lucie, 2; Collin McHugh, Vegas, 2; Rafael Montero, Binghamton, 2; Logan Verrett, Binghamton, 2.
Saves: Jeff Walters, Binghamton, 3; Hunter Carnevale, Savannah, 2.
Strikeouts: Rafael Montero, Binghamton, 21; Zack Wheeler, Vegas, 17; Collin McHugh, Vegas, 15.
Short hops
• Pedro Feliciano, who made his debut with Class A St. Lucie on Monday with a scoreless inning, does not have an out in his contract. Still, the Mets had asked Feliciano at the end of the spring training only to remain in the minors for a month.
• Injuries to Cory Mazzoni (elbow) and fill-in Luis Mateo (elbow/forearm) resulted in right-hander Jacob deGrom getting a call-up to start Wednesday's game with Binghamton. DeGrom is a ninth-round pick out of Stetson University in 2010, where he played shortstop. DeGrom, 24, missed the 2011 season recovering from Tommy John surgery.
Mateo left Monday's B-Mets game three pitches into the fourth inning with an elbow/forearm issue. Paul DePodesta said it was too soon to determine the severity of the injury.
"He dealt with some soreness in spring training as well and was better after a little rest," DePodesta said.
• Partly out of necessity, and also motivated by the desire to expose him to the outfield to increase his versatility, corner infielder Zach Lutz has seen plenty of action in left field with Triple-A Las Vegas. In fact, the breakdown has been nearly 50-50 between outfield and third base. This is Lutz's last year with minor league options, so he likely will have to make next year's squad out of spring training as a versatile righty bat for the bench or be exposed to waivers.
Wilmer Flores, on the other hand, started for the first time at third base Monday but will remain consistently a second baseman with the 51s.
• Las Vegas starting pitchers have repeatedly failed to go deep into games, taxing the bullpen and resulting in the call-up of left-hander Adam Kolarek from Binghamton to spell the overtaxed bullpen. Among 51s starters, Carlos Torres and Chris Schwinden have averaged 4 1/3 innings and Darin Gorski 3 2/3 innings a start.
• A trio of top draft picks is off to a quick start with low-A Savannah. Brandon Nimmo, the 13th overall pick in the 2011 draft, leads the South Atlantic League with a .447 average. Jayce Boyd (2012 sixth round, Florida State) ranks sixth in the league at .383. Kevin Plawecki (35th overall pick in 2012, Purdue) ranks seventh at .375.