DENVER -- If the back end of the Mets' rotation does not shape up, could Zack Wheeler be a major leaguer soon?
GM Sandy Alderson portrayed a weak link between the two.
"I think that's slightly overstated in the sense that Zack Wheeler will determine when he comes to New York, as opposed to what need we might have," Alderson told ESPNNewYork.com. "Now, if those two -- the need and the performance -- converge, then that's a possibility."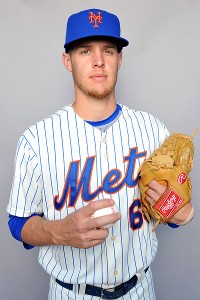 Steve Mitchell/USA TODAY Sports
Zack WheelerAlderson nonetheless implied that there is no imminent promotion coming and that Wheeler must prove himself over several starts with Triple-A Las Vegas.
Wheeler battled a recurring blister issue underneath the nail on his right middle finger in his first two starts, but had a solid third outing once the issue passed. He is 0-1 with a 3.86 ERA in 14 innings. He has allowed 17 hits and six walks while striking out 17.
Where is Wheeler in his development?
"That's something we're going to determine over the next several starts," Alderson said. "If he pitches extremely well over the next several starts, that will indicate one thing. If he doesn't, that might indicate something else. And, of course, we'd have to have input from our player-development people as well as [Las Vegas manager] Wally [Backman] and [pitching coach] Randy St. Claire and so forth."
One piece of good news for the Mets: In a few more days, Wheeler cannot get enough time this season to be credited with a full year of service. So the Mets already have successfully delayed Wheeler's free agency from after the 2018 season until after the 2019 season.
"Well, it's one consideration. That's fair to say," Alderson said about the impact of delaying free agency on Wheeler's promotion. "Super Two status is a consideration. But his level of performance is probably the major consideration. He pitched at Triple-A last year. He's pitching at Triple-A this year. His last outing was excellent. Let's see how it goes."
There is no firm date for delaying Super Two status. A Super Two player basically gets an extra year of arbitration eligibility. One executive estimated the cutoff may be June 15.
For instance, because Ike Davis was called up in April of his rookie year, he was eligible for arbitration this year while many of his peers in that rookie class will be eligible for the first time next year. As a result, Davis is making $3.125 million this season instead of a figure set by the team near $500,000. (He is not eligible for free agency any earlier because of being a Super Two.)
"It's a factor," Alderson said with respect to Super Two and Wheeler. "But, as I said, it's not the controlling factor."