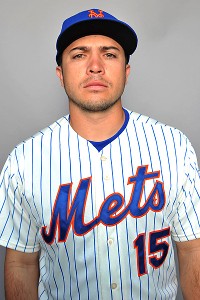 Steve Mitchell/USA TODAY Sports
Travis d'Arnaud suffered a broken foot Wednesday.
DENVER -- Catching prospect Travis d'Arnaud suffered a nondisplaced fracture of the first metatarsal in his left foot while attempting to catch a foul ball in Wednesday's Triple-A Las Vegas game, GM Sandy Alderson said.
D'Arnaud is currently in a walking boot. He is heading to New York to be examined by team doctors Friday.
Alderson said he was unsure whether surgery would be required. The first metatarsal is the long bone in the foot.
D'Arnaud, 24, was hitting .250 with one homer and eight RBIs in 36 at-bats with the 51s.
"It's part of the game," Terry Collins said. "He's a catcher. Stuff happens."
Collins added: "What happens if John Buck breaks his foot today? What we had in place if something should happen now has to change. So, yeah, I feel terrible for Travis. I feel terrible for us. But that's not going to keep me from using John Buck the way I see fit."