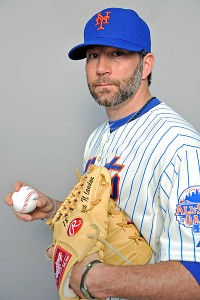 Steve Mitchell/USA TODAY Sports
Shaun Marcum has been diagnosed with nerve inflammation.
DENVER -- Shaun Marcum, who had been slowed by pain his his neck and shoulder related to nerve inflammation, will proceed with a 65- to 70-pitch game on a back field in Port St. Lucie, Fla., today, according to Terry Collins.
Marcum will need at least one more tuneup -- 85 to 90 pitches -- before the Mets consider activating him from the DL.
The Mets will not need a fifth starter again until April 27. Collins said it was not clear whether Marcum could be ready by that day.
"He's got to build his arm strength up," Collins said. "He's got to get to 90 pitches. When that is, it all depends. ... We'll have to see how he comes out of the game today. I don't have anything written down as a time frame. He's going to throw two more -- tonight and another one, for sure."
Collins said there is no current issue with Marcum's shoulder or neck.
"None yet. None so far," Collins said.
UPDATE: Marcum tossed four no-hit innings in an extended spring training game Thursday. He threw 41 pitches.