DENVER
FIRST PITCH: With a frigid road trip behind the Mets, they return home to Citi Field. And fans get a treat Friday night: Matt Harvey opposes Stephen Strasburg as the Mets begin a nine-game homestand with the Washington Nationals.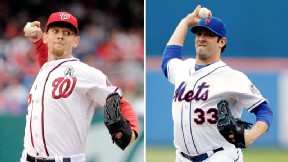 Getty Images
Stephen Strasburg and Matt Harvey face off Friday at Citi Field.
Harvey faced the Nats once during his rookie season. On Sept. 12 in Flushing, Harvey surrendered a solo homer to Ryan Zimmerman but no other damage while striking out 10 in five innings in what became a 2-0 loss. Bryce Harper went 0-for-3 with two strikeouts against Harvey.
During the remainder of this weekend's series, Jeremy Hefner opposes Gio Gonzalez on Saturday, while Dillon Gee opposes Jordan Zimmermann in Sunday's series finale.
Read the series preview.
Friday's news reports:
• Travis d'Arnaud suffered a nondisplaced fracture of the first metatarsal in his left foot when he was struck with a foul ball in the sixth inning of Triple-A Las Vegas' game Wednesday night. He has been placed in a walking boot and is due to be further examined at the Hospital for Special Surgery in Manhattan on Friday. The Mets did not immediately give a timetable, but d'Arnaud could be lost for two months.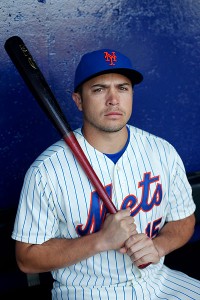 Chris Trotman/Getty Images
Travis d'Arnaud is due to be examined by Mets doctors Friday.
D'Arnaud's 2012 season ended June 25 -- also in Las Vegas -- with a partially torn posterior cruciate ligament in his left knee.
Columnist Joel Sherman writes in the New York Post:
As for d'Arnaud, remember the Mets sent him to the minors because they said he needed the game action, having been robbed of that due to back and knee injuries over the past few years. Now, a foul ball has broken a foot. Back and leg injuries are as problematic for a catcher of any age as, say, an ankle injury is for a shortstop.
The Mets were giddy so far this year that their supplemental piece to their big trade, [John] Buck, was outperforming R.A. Dickey. But no one was kidding himself. That deal from the Mets' end is going to be judged by whether d'Arnaud honors the projections as a high-end offensive catcher.
Of course that is still possible. But let us also remember the ticking clock does not stop. D'Arnaud is no baby. He is 24 -- six months older than Jason Heyward. The Mets' best-laid plans had d'Arnaud and Zack Wheeler breaking in this year and being part of a serial contending cornerstone for next season.
Read more on d'Arnaud's injury in the Star-Ledger, Newsday, Times, Record, Daily News and Journal.
• Josh Edgin, Scott Atchison and Jeurys Familia combined to allow six runs in the seventh inning, and the Mets lost to the Rockies 11-3 on Thursday afternoon at Coors Field. The Mets dropped to .500. Read game recaps in the Times, Post, Star-Ledger, Newsday, Daily News and Record.
• On the Harvey-Strasburg matchup, Michael Salfino writes in the Journal:
Harvey's debut measures up favorably not only to Strasburg but to just about every noteworthy young hurler in the game's history. His 0.98 walks plus hits per inning beat the rates of legendary young hurlers including Mark Fidrych, Felix Hernandez, Fernando Valenzuela and Juan Marichal, according to Stats LLC.
That said, Strasburg's strikeout rate of 11.8 per nine innings to start his career beats Harvey's 10.5. And thus far in 2013, the Nationals' ace also edges Harvey in average fastball velocity, 95.7 to 94.3.
Read more in the Star-Ledger, Newsday and Daily News.
• Shaun Marcum tossed 41 pitches and did not allow a hit in four scoreless innings in an extended spring training game in Port St. Lucie, Fla. Read more in the Star-Ledger.
• Lucas Duda sat Thursday, two days after leaving Game 2 of a doubleheader against the Rockies with back tightness. Terry Collins suggested Duda might return Friday night in the warmer climate in New York.
• Danny Muno had three RBIs in Binghamton's 4-3 win against New Hampshire. Noah Syndergaard surrendered a career-high seven runs in St. Lucie's 11-8 loss to Fort Myers. Brandon Nimmo was hitless in Lakewood's 3-2 win against Savannah. Read the full minor league recap here.
• Sandy Alderson said pitching prospect Cory Mazzoni's injury is limited to elbow inflammation and he needs to rest for only three days. Alderson said the organization was still awaiting a diagnosis on fellow righty prospect Luis Mateo's elbow/forearm.
• Zack Wheeler (0-1, 3.86 ERA) pitches for Las Vegas on Friday night against Oakland's Triple-A affiliate.
• Wednesday's postponed Mets-Rockies game will be made up June 27 at 6:10 p.m. ET at Coors Field. That had been an off day between the Mets playing at the Chicago White Sox and a home series against the Nats.
BIRTHDAYS: Frank Viola, now the pitching coach with low-A Savannah, turns 53. ... Ambiorix Burgos, whose major league career was derailed in part by serious legal troubles, is 29. Burgos currently is pitching in Mexico.
TWEET OF THE DAY:
#Mets lost in the permafrost. They have a winning record above freezing though. No worries. #LetsGoMets!

— Rich (@thisisrtm) April 19, 2013
YOU'RE UP: At 7-7, is the Mets' glass half-full or half-empty?