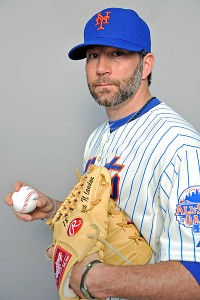 Steve Mitchell/USA TODAY Sports
Shaun Marcum is due to up his workload to 80 pitches in his next outing.
Terry Collins said Shaun Marcum got through Thursday's four-inning outing in extended spring training without issue. The next step: Marcum will try to ramp up to 80 pitches, according to the manager.
Marcum opened the season on the disabled list with a nerve issue that caused pain in his neck and shoulder.
He threw 41 pitches in four no-hit innings while striking out five and walking none Thursday in Port St. Lucie, Fla., according to the team.
"He pitched very well," Collins said. "He felt great. We're very excited."
The Mets do not need a fifth starter until next Saturday. So it would appear conceivable Marcum could be ready for that outing and the Mets would not need another start from Aaron Laffey.
Laffey will work out of the bullpen for the time being regardless.