WHAT IT MEANS: The Citi Field crowd said it best, chanting in the sixth inning: "Har-vey's better! Har-vey's better!"
That certainly was the case at least on this night, in a hyped matchup between Matt Harvey and Stephen Strasburg.
Harvey took a scoreless effort against the Washington Nationals into the seventh inning. Then, after surrendering a run, he wriggled free of a bases-loaded, no-out jam that teammate Daniel Murphy helped create.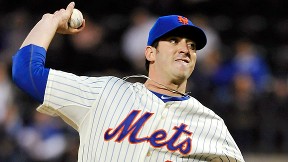 Kathy Kmonicek/Associated Press
Matt Harvey took a scoreless effort into the seventh, then really rose to the occasion.
The final score: Mets 7, Nats 1.
The crowd, announced at a paid 26,675, included Dwight Gooden. Ike Davis and Lucas Duda each homered twice.
Harvey ultimately limited the Nats to one run on four hits and three walks while striking out seven in a 105-pitch effort spanning seven innings.
Harvey's ERA actually rose to 0.93. He has limited opponents to 10 hits and nine walks while striking out 32 in 29 innings this season.
He became the first Met since Pedro Martinez in 2006 to earn the victory in each of his first four appearances of a season.
The tense moment came in the seventh, which Harvey entered working on a two-hit shutout.
Adam LaRoche opened the inning with a walk and Ian Desmond and Chad Tracy singled as the Nats pulled within 4-1.
Steve Lombardozzi then hit into a would-be 4-6-3 double play. But as Ruben Tejada crossed the bag, Murphy's flip was behind him, toward the third-base side of the infield. The duo failed to connect. Instead, Washington had the bases loaded and none out, trailing by three runs.
Tejada received a visit from trainer Ray Ramirez, but remained in the game.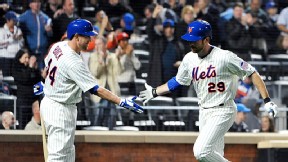 Kathy Kmonicek/Associated Press
Ike Davis homered twice Friday.
As Brandon Lyon warmed in the bullpen and Harvey's pitch count approached triple-digits, the Mets' ace stepped up.
Harvey struck out Kurt Suzuki and coaxed a foul pop-out to the catcher from Roger Bernadina, who was pinch-hitting for Strasburg. Denard Span then grounded out on Harvey's final pitch as the Mets maintained a three-run lead.
Strasburg, who surrendered solo homers to Davis and Duda in the sixth that expanded the Mets' lead to 4-0, matched a career high with his third straight loss. He allowed four runs (two earned) on five hits and two walks in six innings.
Davis also delivered a two-run shot in the eighth against Drew Storen. Duda again followed Davis' lead, with a solo shot that frame.
The Mets scored a pair of unearned runs in the first. Jordany Valdespin opened the half-inning by reaching on an error by Desmond at shortstop. Valdespin advanced to third on a single by Murphy and scored on a wild pitch. Murphy scored with two outs on a single by John Buck.
Harvey did not allow a hit until Strasburg's one-out, opposite-field double in the third. The next hit came from Span on a single to open the sixth. Span was erased when the ensuing hitter, Jayson Werth, grounded into a double play.
WHAT'S NEXT: Jeremy Hefner, who served up two homers in an inning of relief Thursday at Colorado, starts for the first time since April 10. Hefner (0-2, 7.20 ERA) opposes left-hander Gio Gonzalez (1-1, 4.50) at 3:05 p.m. at Citi Field.