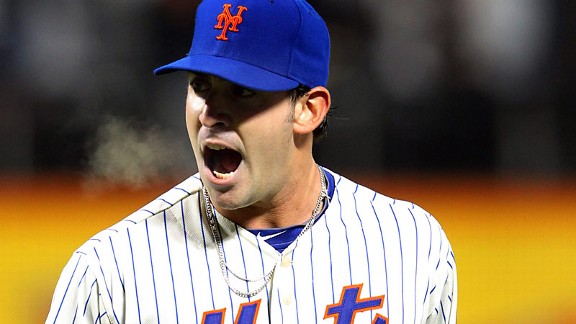 Brad Penner/USA TODAY Sports
Matt Harvey limited the Nats to one run in seven innings as his ERA rose to 0.93.
Matt Harvey heard the "Har-vey's better!" chants from the Citi Field crowd, which compared him favorably to Stephen Strasburg.
"It's nice to hear, but I've got a long way to go to do something like that," Harvey said after limiting the Washington Nationals to one run in seven innings in a 7-1 win Friday night at Citi Field. "I appreciate the fans and the support and all that. But we're here to win. We're the New York Mets. It's not just one guy out there. Every time I take the ball I'm trying to win for the team."
Harvey, after working free of a bases-loaded, no-out jam in the seventh, ultimately improved to 4-0.
He became the first major league pitcher since Tim Hudson in 2007 and the first Met since Rick Reed in 2000 to open a season with four straight starts of seven-plus innings while allowing one run or fewer in each start.
His 102 strikeouts rank third in franchise history through 14 career games, trailing only Dwight Gooden (107) and Nolan Ryan (103). Gooden, who has regularly tweeted flattering comments about Harvey, attended Friday night's game.
Harvey said he noticed Gooden's presence on the JumboTron.
"I'm going to take the 24-hour rule and definitely be happy about this start and this win," Harvey said after limiting the Nats to four hits and three walks in a 105-pitch effort. "And after it's over, tomorrow, it's time to work hard and get prepared for the next start."
Terry Collins and John Buck said the seventh inning -- when Harvey held the score at 4-1 by overcoming an error by Daniel Murphy that loaded the bases with none out -- might have been bigger than the six scoreless innings that preceded it.
"There were some very high-pressure situations and pitches I made him throw that were off-speed pitches," Buck said. "So if he gets amped up or overthrows it at all, we don't get the ground ball, we don't get the popup. He doesn't get that stuff. To me, that's impressive. They were touch-and-feel pitches in very high and tense situations. For a young guy to be able to do that is very impressive."
"That was a big challenge -- bases loaded with no outs," Harvey agreed. "That's a tough lineup. At any point it felt like it could unravel and things could have gone the other way."
Harvey confessed he was amped up early by the matchup with Strasburg.
"I think I learned from tonight's start. I came out the first inning a little bit too pumped up," Harvey said. "As the start went on, I could feel my body starting to get a little tired. That was really my first big Friday night, I guess you could say."
Buck, though, wasn't so sure Harvey had extra adrenaline Friday night.
"I know you want me to say yeah, but he functions at such a high octane already," Buck said. "To be honest, I really don't think he cares who he's facing. He is the way he is. That's what makes him so good, because it doesn't matter who he's facing. That's Matt Harvey."