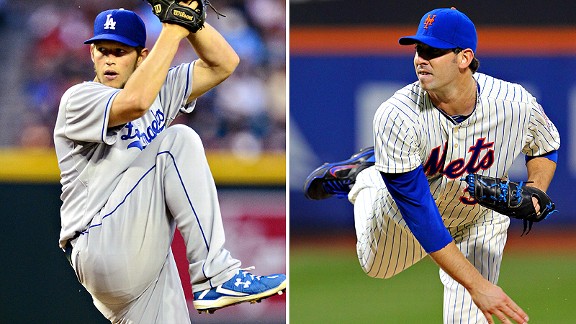 USA TODAY Sports
Clayton Kershaw pitches at Citi Field on Tuesday, while Matt Harvey's outing against L.A. waits until the following day.
FIRST PITCH: Citi Field narrowly will miss another marquee matchup involving Matt Harvey this week.
Los Angeles Dodgers ace Clayton Kershaw will take the mound for Tuesday's series opener against the Mets opposite Jonathon Niese. Harvey's next trip to the mound after out-dueling Stephen Strasburg waits until Wednesday, opposite ex-Yankee Ted Lilly.
Jeremy Hefner is expected to oppose 26-year-old South Korean Hyun-Jin Ryu in the series finale.
The upcoming meeting with the Dodgers marks the first series of three-plus games in which the Mets face exclusively southpaw starters since June 9-11, 2009 against the Philadelphia Phillies (J.A. Happ, Cole Hamels and Jamie Moyer).
The Mets and L.A. are off today before beginning the midweek series.
Monday's news reports:
• Shaun Marcum is due to throw 70 pitches today in an extended spring training game in Port St. Lucie, Fla. Assuming Marcum (neck/shoulder) clears that hurdle, he is due to be activated from the disabled list Saturday to face the Phillies at Citi Field.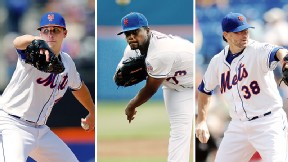 USA TODAY Sports
Aaron Laffey (left) has been designated for assignment, with Robert Carson (center) promoted and Shaun Marcum (right) looming Saturday.
With Marcum nearing a return, the Mets designated fill-in Aaron Laffey for assignment and promoted left-handed reliever Robert Carson from Triple-A Las Vegas. Laffey had surrendered a three-run homer to Adam LaRoche on Saturday in relief of Hefner. That upped Laffey's ERA to 7.20 in four appearances (two starts).
Carson had been 1-0 with a 1.17 ERA in eight relief appearances with Las Vegas. Lefty batters hit .077 (1-for-13) with five strikeouts and one walk against him in the Pacific Coast League.
Read more in the Times, Star-Ledger and MLB.com.
• Dillon Gee tossed 5 2/3 scoreless innings to earn his first win since July 13, 2012 -- before undergoing surgery to repair a damaged artery in his pitching shoulder -- and the Mets won Sunday's rubber game against Washington, 2-0.
Scott Rice allowed a pair of baserunners to reach to open the eighth inning and then fell behind Jayson Werth 3-0. But Rice coaxed a double-play groundout from Werth, who was ill-advisedly swinging on the next pitch. Rice then struck out Bryce Harper to preserve the two-run lead.
"I was caught up in the moment," Werth said about swinging on the 3-0 pitch, according to Adam Kilgore in The Washington Post. "Looking back, I was trying to do too much. I was trying to win the game right there. That's it, really. We can sit here and talk about the situation. I was just trying to do too much. The situation got the best of me. That's probably one of the dumber things I've done on the field in a while. Look no further than right here. We had a chance to win the game. I feel like I pretty much blew it."
Bobby Parnell tossed a 1-2-3 ninth for his second save. John Buck produced his seventh homer and 22nd RBI, on a solo shot in the second inning against Jordan Zimmermann that opened the scoring.
APRIL POWERS
Most RBIs in the month of April in franchise history:
Buck is now four RBIs shy of matching Jeff Kent's franchise record for the opening month of a season. Kent had 26 RBIs for the Mets in April 1994.
Buck's homer measured 448 feet, according to hittrackeronline.com. That is the longest by a righty-hitting Met and third-longest by a righty hitter overall at Citi Field since the ballpark opened in 2009, according to ESPN Stats & Info's Mark Simon. The only two longer were produced by Giancarlo Stanton (465 feet) and Mark Reynolds (462 feet).
The Mets (9-8) moved back above .500 with Sunday's rubber-game win. Last season the Mets went 4-14 against the Nats.
The Mets had lost the last seven series to Washington dating back to 2011.
The last time they had lost that many consecutive series to the same opponent? That spanned August 2002 through May 2006, when the Mets lost eight straight series to the St. Louis Cardinals, according to the Elias Sports Bureau.
Read game recaps in the Times, Newsday, Journal, Post, Star-Ledger, Daily News, Record and MLB.com.
• Terry Collins says he will not move Lucas Duda from the No. 6 slot to cleanup, displacing Ike Davis, even though Duda has a .475 on-base percentage and .659 slugging percentage to Davis' .254/.317.
"This game is all about confidence," Collins said. "Lucas Duda is feeling pretty good. I don't want to change that. One thing I don't want to do right now is put him in a situation where he thinks he's got to do more than he's doing at this particular moment."
• Tim Marchman in the Journal dismisses Ruben Tejada's six April errors as either irrelevant or unimportant. Writes Marchman:
Chicago Cubs shortstop Starlin Castro, for instance, has made seven first-month errors each of the last three years. Over that time, he's averaged -4 defensive runs per season, which, given the imprecision of fielding statistics, rates as basically normal. The others who have made a half-dozen or more errors by May 1 are Elvis Andrus, Ian Desmond and Alcides Escobar; in all, they and Castro graded out as slightly above-average in the years where they had botch-prone Aprils.
Conversely, shortstops who consistently rated badly, like Yuniesky Betancourt and, yes, Derek Jeter, weren't especially error prone at the beginning of the year. This goes to show why judging a fielder by April errors is a bit like judging pitchers by April losses.
• Columnist Bill Madden in the Daily News noted Gee's performance offered a sigh of relief.
• Alonzo Harris went 4-for-5 with two RBIs and Logan Verrett improved to 3-0 with a 2.55 ERA as Binghamton clubbed New Hampshire, 15-2. Hansel Robles, Jim Fuller and Chasen Bradford combined on a six-hit shutout as St. Lucie beat Charlotte, 1-0. Collin McHugh allowed four runs on 13 hits in 5 1/3 innings in a no-decision as Las Vegas lost at Colorado Springs, 8-7. Read the minor league recap here.
• From the bloggers … Keith from Mets Police brought a friend from England to her first baseball game. She compared the atmosphere at Citi Field to that of a soccer game back home. … Faith and Fear in Flushing believes Harvey lit up a fan base and transformed a facility into a ballpark on Friday night.
BIRTHDAYS: No one to appear for the Mets was born on this date, but Jack Nicholson, Brazilian soccer play Kaka and Peter Frampton all celebrate birthdays today.
TWEET OF THE DAY:
Just enjoying the view of this beautiful city! I love #NY instagram.com/p/YYsH1XjjWT/

— Justin Turner (@redturn2) April 21, 2013
YOU'RE UP: Would you rather Matt Harvey and Clayton Kershaw square off? Or are the Mets better off with Harvey not lining up against another ace?