Outfield prospect Juan Lagares, who is tearing up the Pacific Coast League, likely will join the Mets as soon as Tuesday, baseball sources told ESPNNewYork.com.
Lagares, 24, is hitting .346 with three homers and nine RBIs through 78 at-bats with Triple-A Las Vegas. All 17 of his appearances with the 51s have been in center field. He also has experience in both corner outfield spots. He already is a member of the Mets' 40-man roster.
Lagares initially was a shortstop in the Mets' system after signing out of the Dominican Republic in 2006.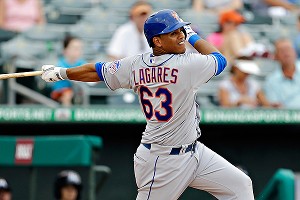 Julio Cortez/Associated Press
Juan Lagares swings at a pitch during a Grapefruit League game in February.
"He's a ... kid who can play all three outfield positions," Wally Backman told ESPNNewYork.com late in the 2011 season, while managing Lagares with Double-A Binghamton. "He's got speed. He's a good outfielder. He throws to the right bases. And he can swing the bat a little bit."
Lagares was leading the Florida State League in batting with a .339 average when he was promoted to the Double-A B-Mets on July 23, 2011.
One scout who watched Lagares in Double-A compared him body-type-wise to Raul Mondesi.
"Compact," the scout said. "Short, hitter's legs."
Backman said there's a smoothness to Lagares at the plate.
"He has a very 'quiet' approach," the manager said. "He has a knack for getting the barrel on the ball. He looks like he's a real good hitter. I mean, if you just watch him, you say, 'This kid is going to be able to hit.'"
Signed in 2006 out of the Dominican Republic, Lagares committed 40 errors in 82 games at shortstop the following season with Savannah, and had a .911 fielding percentage.
"My first year it's a lot of errors," Lagares said while in Double-A. "After that, I felt good."
Still, in 2009, the organization moved him to the outfield, where he has shown an aptitude. Lagares said line drives were initially challenging, but the transition was relatively smooth.
"In the beginning, it was not that easy," Lagares said. "But with time I learned how to play outfield comfortably."
Injuries really slowed Lagares more than anything early in his pro career. He suffered a broken right ankle on July 28, 2010 while playing for St. Lucie, but did not require surgery. Lagares actually played two weeks in pain after initially getting hurt holding up at third base on a teammate's hit. He eventually had to be shut down after he ran in pain to first base on a strikeout that eluded the catcher.
The previous season, Lagares was limited to 47 games by a wrist injury. In 2008, the start to his season was delayed by an arm issue.