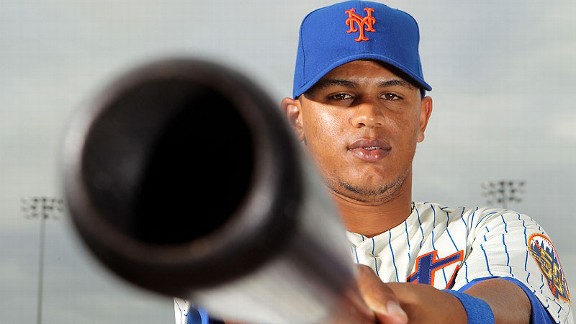 Marc Serota/Getty Images
Juan Lagares is active tonight at Citi Field.Here are the lineups as the Mets face Clayton Kershaw and the Los Angeles Dodgers at Citi Field at 7:10 p.m.
Juan Lagares is active, but not starting. He flew overnight from Colorado Springs to New York, landing at 9 a.m. Lagares said he is comfortable in all three outfield positions, but center field is his best spot. He will wear No. 12.
Lagares said he was in disbelief when Triple-A manager Wally Backman informed him about the promotion.
"Major surprise," Lagares said. "I couldn't believe it. Wally called me last night. I thought he was just playing with me. I said, 'Hey, are you serious?'"
Mets
Ruben Tejada, ss
Daniel Murphy, 2b
David Wright, 3b
John Buck, c
Marlon Byrd, rf
Lucas Duda, lf
Justin Turner, 1b
Collin Cowgill, cf
Jonathon Niese, lhp
Dodgers
Carl Crawford, lf
Mark Ellis, 2b
Matt Kemp, cf
Adrian Gonzalez, 1b
Jerry Hairston Jr., 3b
Andre Ethier, rf
A.J. Ellis, c
Justin Sellers, ss
Clayton Kershaw, lhp
Tejada leads off for the first time this season. Turner starts over Ike Davis.