Collin McHugh, who tossed seven scoreless innings in his major league debut, has chronicled his life as a Mets minor leaguer on his personal blog, "A Day Older, A Day Wiser" for years. He periodically has those entries carried on ESPNNewYork.com as well.
Standing on the mound in windy Colorado Springs I did something I've never done before. I gave up 12 singles in 5 1/3 innings, yet left the game in line for the win.
The first two innings came and went without much fanfare, scattering a couple hits with a couple strikeouts and holding onto my slim 1-0 lead. Nothing felt discernibly different as the third inning rolled around. It was the same hitters and the same ballpark (if not a couple degrees cooler and a bit breezier).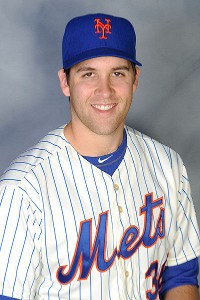 Courtesy of New York Mets
Triple-A Las Vegas pitcher Collin McHugh
I began the third by attacking the strike zone just as I had done in the previous innings. With the pitcher leading off the inning I had the first out, a weak grounder, in just two pitches. After racing to an 0-2 count on the next batter, the tide of the game turned.
I tried to run a fastball under the lefty's hands, leaving the ball over the plate just a couple inches. He swung defensively and the sound of the splintering maple could be heard 20 rows up, where my wife sat bundled in whatever "cold-weather gear" we could rustle up in Vegas. The ball, apparently blessed with 20/20 vision, found a hole past the outstretched glove of my first baseman. I winced, as only a jilted pitcher can, and got the ball back from my infielders. What ensued was pure baseball magic. The next seven hitters reached base via the single base hit. Pitch after good pitch was capped or jammed into those microscopic vacuums that hitters dream of and pitchers have nightmares about. Broken bats filled the opposing team's dugout trashcan while their players methodically circled the bases one by one.
My catcher came out once to encourage me, saying "Keep making good pitches. They can't get lucky all day." After three more singles that traveled a combined 100 feet, my pitching coach made the long walk from the dugout. He echoed the catcher with, "Geez. Can't catch a break, huh?" It was at this point that I had a decision to make. I could give in to the self-pity that was brewing inside me, or I could stay the course and keep making pitches in the hope that this inning would end without further damage.
Now it's easy to stand outside of a situation like this and take the high road. The road that makes more sense. The road that shows character and strength. But take a moment and think back to a time in your life when you couldn't seem to get ANYTHING right, even though you were seemingly doing EVERYTHING right. Our emotional response is usually much stronger than our rational one. Self-pity seems so justified and a bad result becomes expected. It takes something special to believe the best is still possible. Something not found in the heat-of-the-moment (cue the music), but forged in the victories of the past.
It takes Faith.
The belief in something hoped for. The evidence of things not seen. There have been times in the past where I've given up and given in to the situations. Where I've accepted the sting of defeat before it was sealed. But on this day, at this point in my career, I clung to the faith I had. That my stuff was good enough. That I had succeeded in the past. And that if I consistently gave 100 percent my chances of success would be high.
Long story short, I got out of the jam with a strikeout and an outfield assist (thanks Juan), giving up only three runs. Our team battled hard and came back to take the lead, 4-3. I made it into the sixth inning that day, and even though we ultimately lost the game, I was reminded of what a little bit of faith (and a good arm in center field) can do in times of chaos.