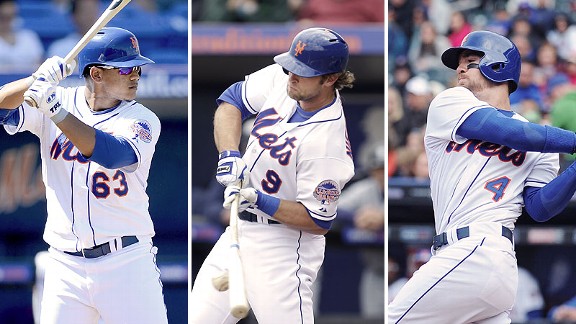 Associated Press
Juan Lagares' promotion meant Kirk Nieuwenhuis got dispatched to Triple-A. It also should diminish Collin Cowgill's playing time.Terry Collins said he plans to insert Juan Lagares into the starting lineup in center field for the first time Wednesday. Because Lagares flew overnight from Colorado Springs to New York, and with the Mets facing ace Clayton Kershaw, Collins figured waiting a day would be prudent before starting Lagares.
Still, the manager pledged to use the 24-year-old Dominican prospect regularly, not let him wither like Kirk Nieuwenhuis, whom Lagares displaced from the roster.
Collins indicated he needs to gauge how Lagares will fare against major league competition. It's an ideal time with the Mets facing four southpaw starters during the six games remaining on this homestand (Kershaw, Ted Lilly and Hyun-Jin Ryu against the Dodgers, then Cole Hamels on Sunday against the Phillies).
Collins acknowledged that Lagares' promotion should diminish Collin Cowgill's role. The manager suggested it might even have a trickle-down effect on Jordany Valdespin -- allowing Valdespin to be a pinch hitter in critical spots and perhaps start on occasion at second base.
"I always think when you bring a young player like this to the major leagues, you've got to find out if he can help you," Collins said. "And the only way to find that out is to get him in the lineup."
Cowgill's average has dipped to .200. He started Tuesday night against Kershaw but batted eighth, with Ruben Tejada instead becoming the sixth Met to lead off through 18 games. Cowgill needs to get on base more frequently, according to the manager.
As for Lagares, Collins said: "He's the future. He's a great defender. I talked to Wally [Backman] today. Wally said he's off to a good start, he's got some power. There are people in this organization that think he's a better center fielder than Matt den Dekker. That speaks a lot."
As for goals for Nieuwenhuis in Triple-A, Collins said: "When I talked to Kirk today, I brought up a couple of things. No. 1, we've all sat here and talked several times about what a great first half we had last year. One of the guys who was in the middle of that great first half was Kirk Nieuwenhuis. And he needs to go play. He was hurt most of the spring [with a bone bruise on the knee]. He did not get very many at-bats. Therefore, he started out this year really not ready to be in the lineup every day.
"We have been unable to get the at-bats that I think he needs to get it going. So I said, 'You've got to go play, because you can be the center fielder here that's going to make a difference. So go down and get some playing time.'
"I think if Kirk was a big-time power hitter, you'd probably ignore the strikeouts a little bit," Collins continued. "But when he's most dangerous is when he's making contact. One of the things we certainly want him to go down and do is to really concentrate on a two-strike approach -- where he's putting the bat on the ball.
"He's strong enough to get hits. If you're not striking out, you're going to get some hits. As long as he makes better contact, he's going to be a much, much better offensive player. And if he's that, he's going to be an everyday player up here."