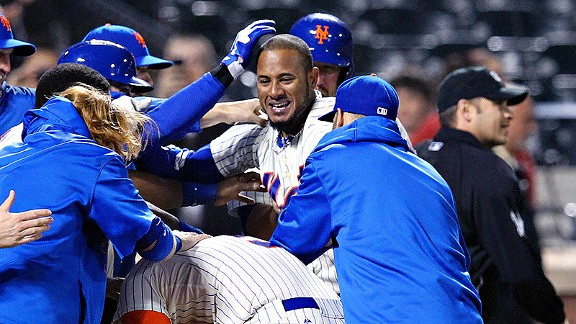 Brad Penner/USA TODAY Sports
Jordany Valdespin celebrates with teammates after the first walk-off grand slam by a Met in 22 years.
FIRST PITCH: David Wright had a game-tying two-out single in the ninth that plated Mike Baxter and Jordany Valdespin belted a grand slam an inning later as the Mets beat the Dodgers, 7-3, Wednesday night at Citi Field.
SLAMS
The Mets have produced six walk-off grand slams in franchise history.
It was the first walk-off grand slam by a Met since Kevin McReynolds against Montreal's Scott Ruskin on June, 25 1991 and the sixth in franchise history. It also marked the second walk-off hit by a Met this season, joining Marlon Byrd against the Miami Marlins on April 7.
(Robin Ventura had a grand-slam single to end Game 5 of the 1999 NLCS against the Atlanta Braves. He was not credited with the homer because teammate Todd Pratt interrupted his trip around the bases to celebrate.)
Collin Cowgill and John Buck also have slams this season.
The late comeback got Matt Harvey off the hook for his first 2013 loss. It prevented the Mets from dipping below .500 for the first time this season.
Baxter had hustled for a double to lead off the ninth with the Mets trailing 3-2 after Carl Crawford could not hold onto his leadoff sinking liner.
The Mets (10-9) now send Jeremy Hefner to the mound for today's rubber-game matinee.
Hefner, who has allowed an NL-high seven homers, opposes South Korean left-hander Hyun-Jin Ryu in the 1:10 p.m. series finale. (Interesting side note: Ryu learned his changeup from ex-Met Mr. Koo.)
Also, please join me for a noon Mets chat here.
Thursday's news reports: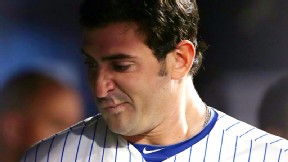 Elsa/Getty Images
Matt Harvey was displeased with his performance despite a quality start.
• Harvey surrendered a replay-awarded two-run homer to Matt Kemp in the sixth that gave Los Angeles a 3-1 lead. It marked the first time this season an opponent had scored more than a run against Harvey and the first time he failed to complete seven innings. Harvey (6 IP, 4 H, 3 ER, 1 BB, 7 K) watched his ERA rise to 1.54.
Fernando Valenzuela in 1981 remains the last major leaguer to toss seven-plus innings and allow one or fewer runs in each of his first five starts of a season. Still, Wright's two-out hit in the ninth will allow Harvey on Monday in Miami to try to join Pedro Martinez (2006) and Dwight Gooden (1988) as the only Mets to produce 5-0 April records. Harvey's 109 strikeouts through 15 career starts trail only Gooden (113) and Nolan Ryan (112) in franchise history.
Read game recaps in the Post, Daily News, Star-Ledger, Record, Times, Newsday, Los Angeles Times and MLB.com.
• Columnist John Harper in the Daily News notes the attendance is not seeing a Gooden-like bump from Harvey starts. Not yet anyway.
You'd think Mets fans would be filling up Citi Field to see him, the way they once did for Dwight Gooden, but only 26,000 or show showed up for the much-hyped Harvey-Strasburg duel on Friday, and then on Wednesday, even with the ballclub offering discounted tickets and Matt Harvey T-shirts to promote his start, the place looked two-thirds empty. Certainly the attendance seemed smaller than the announced crowd of 24,130.
What it tells you is just how disillusioned Mets fans are with everything that has transpired in recent years, and all too aware that everything GM Sandy Alderson has done is with 2014 and beyond in mind.
Read more on Harvey in the Post, Times and Journal.
• The Mets, Mayor Bloomberg and MLB held a midday press conference at City Hall on Wednesday to launch All-Star voting.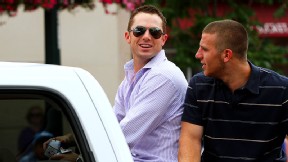 Dilip Vishwanat/Getty Images
David Wright and brother Daniel ride during last year's All-Star parade in Kansas City. This year, 42nd St. in New York City will be the parade route.
Light on substance, the event did reveal the pregame parade featuring All-Stars riding in cars will travel down 42nd St. on July 16 from Bryant Park, past Grand Central Station, to between Second and Third avenues.
Also revealed: The Mets selected Baxter, Lucas Duda and Kirk Nieuwenhuis to appear on the All-Star ballot as the team's outfielders -- omitting Byrd, Cowgill and Valdespin.
In a lighter moment, a questioner asked Wright why he sticks his tongue out while playing. Wright suggested it is a focus thing, which he has been doing since childhood. "I used to get yelled at by my teachers when I was taking tests in elementary school, because when I concentrate, my tongue just comes out," the six-time All-Star said. "And that's about all I've got."
In discussing New York City as a sports mecca, Bloomberg noted the Mets soon should have a soccer-playing neighbor at adjacent Flushing Meadows Corona Park. Hizzoner said he "hopefully" expected a stadium announcement soon.
There were a few painful moments of forced humor. Bloomberg, who is the subject of a parody Twitter account about his Spanish (@ElBloombito), lightheartedly told Mets ambassador Edgardo Alfonzo: "Tu español es bueno." Bloomberg, at the outset of the press conference, had said: "Welcome to our home field, City Hall." After no reaction from those assembled at City Hall, the mayor added: "That's funny. You're supposed to laugh."
MLB and the Mets also announced plans to donate more than $4 million to causes including FirstStepNYC (PS/IS 41 in Brownsville, Brooklyn), youth-field renovations at Hinton Park in Flushing and O'Donohue Park in Far Rockaway, St. Albans Community Living Center in Jamaica, Boys & Girls Club Construction Project (South Queens Boys & Girls Club in Richmond Hill), City Harvest and Wheelchair Sports Federation.
Read more in the Post, Daily News, Star-Ledger, Newsday and MLB.com.
• Jonathon Niese, who was struck with a comebacker in the lower right leg off and forced from Tuesday's game, had some swelling and tightness a day after receiving the jolt. He may delay his bullpen session by a day to Friday and throw more lightly than customarily between starts. But Niese intends to proceed with his next scheduled start, against the Philadelphia Phillies opposite Cole Hamels on Sunday at Citi Field. Read more in the Record and Times.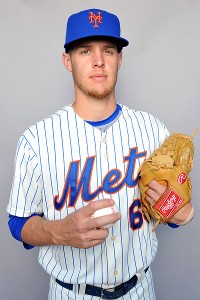 Steve Mitchell/USA TODAY Sports
Zack Wheeler looks to rebound from a six-walk outing when he opens the 51s' homestand tonight.
• Zack Wheeler is listed as the scheduled starter for Triple-A Las Vegas tonight -- leapfrogging others in the rotation. The 51s have not played since Sunday because of frigid weather and a pre-scheduled off-day. Wheeler, who will face Tacoma (Seattle Mariners) at 10:05 ET, is coming off an outing last Friday in which he was charged with four earned runs on three hits and six walks while tossing 108 pitches in 4 1/3 innings. Three of the runs charged to Wheeler scored after he departed with the bases loaded. You can listen to the radio call of 51s games for free here.
• Shaun Marcum joined his teammates at Citi Field in advance of Saturday's start against the Phillies. He indicated the nerve inflammation that caused pain in his neck and shoulder had calmed with injections. Terry Collins plans to cap Marcum at 90 pitches in his Mets debut. Read more in the Post, Times, Newsday and Star-Ledger.
• Mets security guard Paolo Neto said Kemp's replay-reviewed ball to the right-field corner definitely was a homer. "It was over the fence," Neto told Howie Kussoy in the Post. "I was just sitting there when I saw the ball. I didn't even think it was going to reach me, but it came right at me. I was just trying to protect myself and it hit me in the hands." Read more in the Daily News.
• Jayce Boyd went 2-for-2 with two RBIs, two runs scored and three walks and Jeff Glenn went 3-for-5 with a homer and three RBIs as Savannah beat Delmarva, 9-3. Read the full minor league recap here.
• Read more on Baxter's hustling leadoff double in the bottom of the ninth in the Post.
• From the bloggers … Shannon from MetsPolice.com will forgo sleep to watch Harvey, but not to watch the bullpen.
BIRTHDAYS: Blaine Beatty, who was acquired from the Baltimore Orioles for Doug Sisk on Dec. 8, 1987, turns 49.
TWEET OF THE DAY:
Just saw replay of @johnbuck44 #pie & I think I'm gonna have to keep that duty 4 myself so no 1 gets hurt #RightCross #goldengloves #TKO

— Justin Turner (@redturn2) April 25, 2013
YOU'RE UP: Which Mets will be selected to the All-Star Game?