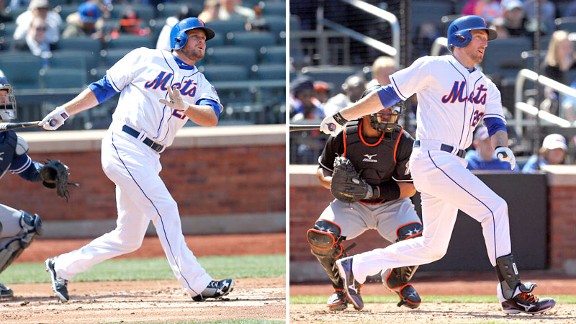 USA TODAY Sports
Terry Collins has inserted Lucas Duda in the cleanup spot over Ike Davis.
Days after Terry Collins indicated he did not plan to promote Lucas Duda from No. 6 in the order to the cleanup spot, the manager reversed course. Duda is batting fourth for the first time this season in Thursday's rubber game against the Los Angeles Dodgers.
LUCAS vs. IKE
A statistical comparison of Lucas Duda and Ike Davis this season.
Duda had started as the cleanup hitter 62 times over the previous two seasons, but Collins had recently expressed reluctance to use him there because the manager did not want Duda over-thinking and trying to do too much.
Now, though, Collins reasoned he needed protection for No. 3 hitter David Wright, especially with the Mets facing southpaw Hyun-Jin Ryu, who has been tough on lefty batters (.158 opponent average, versus .316 for righty batters). Ryu might give Davis fits.
Duda (.275, 5 HR, 8 RBIs) is tied for second in the majors with Wright with 17 walks, trailing only Joey Votto (26). Duda ranks third in the NL in on-base percentage at .471.
Davis (.169, 3 HR, 6 RBIs) is batting sixth this afternoon. He has struck out nine times in his past five games and has 22 Ks in 65 at-bats this season.
"We've got to get Ike going," Collins said. "We're heading into May here. We need to get him swinging the bat like he's capable of. I don't know if he's trying to put too much pressure on himself to hit homers.
"So I just said, 'You know what? Maybe it's time to get him to relax a little bit.' When he starts swinging like he's capable of, or like we saw last year in the second half, I'll move him back in that four-hole, because I just think that's our best lineup. But Lucas is swinging great. So we just made the switch."