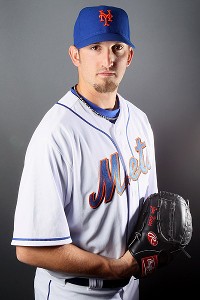 Elsa/Getty Images
Jon Niese
Jonathon Niese, who was struck with a comebacker in the right ankle and forced from Tuesday's game, planned to proceed with his normal between-starts bullpen session today.
Terry Collins said Niese preferred not to disrupt his normal routine by delaying the session until Friday. Niese also planned to do his regular running work.
The southpaw is due to oppose Cole Hamels and the Philadelphia Philles on Sunday.
"A little swollen, but it feels good," Niese describe the injury Thursday morning.
Said Collins: "He said he did not want to break up the routine. They have a wrap on his ankle, which makes it feel pretty good."