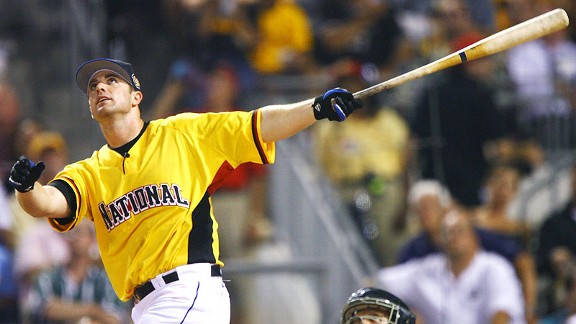 Al Bello/Getty Images
David Wright seems a pretty safe bet to participate in his first Home Run Derby since 2006 in Pittsburgh.
David Wright may be reappearing in the Home Run Derby for the first time in seven years.
Although he was unaware, Wright is one of 10 NL candidates listed on the All-Star ballot for fans to vote into the Home Run Derby, which is scheduled for July 15 at 8 p.m. at Citi Field. The other players listed are Carlos Beltran, Buster Posey, Ryan Braun, Giancarlo Stanton, Bryce Harper, Joey Votto, Jason Heyward, Matt Kemp and Andrew McCutchen.
Even if fans don't vote Wright in, he figures to participate anyway, since the Mets are hosting the event. (Wright qualified his willingness to participate by saying he first needed to be selected to the All-Star Game, but that seems a slam dunk.)
"Obviously, under the circumstances, this is a little different," Wright said, referring to Citi Field as the Home Run Derby site. "But I've got to be on the team first and then we'll worry about those types of things."
Added Wright: "I don't think it messes too much with your swing. The biggest thing, for me, is I did it once and I enjoyed it. Honestly, I probably don't think I can do much better."
Wright participated in the Home Run Derby in 2006 in Pittsburgh, during the first of his six All-Star selections. He actually reached the finals before losing to Philadelphia's Ryan Howard.
"I think I ran out of gas," Wright said.
Bullpen catcher Dave Racaniello originally was supposed to throw to Wright at PNC Park, but had a back problem and was unable. Teammate Paul Lo Duca stepped in and pitched Wright into the final round.
"He ran out of gas, too," the third baseman said.