Why did Scott Rice remain in the game for the ninth inning with the score tied Thursday afternoon?
Terry Collins had a reasoned answer.
The manager said he risks burning out Bobby Parnell by using him in too many tie ballgames. And the way the Dodgers' lefties were lined up, Collins added, keeping Rice in the game made sense.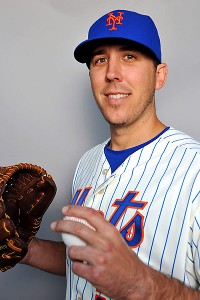 Steve Mitchell/USA TODAY Sports
Scott Rice
Switch-hitter Nick Punto opened the inning with a double off Rice, and Collins said he wanted Punto to hit from that side because he had not yet been forced to do so in the series.
The reason Rice was in the game for the ninth inning to begin with was to face the next batter, lefty-hitting Adrian Gonzalez. And Rice did coax a groundout to first base, although Punto advanced to third on the play.
Collins resolved going into the inning that if Rice had retired Punto and Gonzalez, the manager would have inserted Scott Atchison to face the righty-hitting Kemp.
Instead, with a runner on third and one out, Collins had Rice intentionally walk Kemp to face lefty-hitting Andre Ethier.
Rice hung a slider for the tiebreaking RBI single.
"I just left it up," the southpaw said.
At that point, Collins inserted Parnell to try to limit the damage. An inherited runner scored against Parnell, Ike Davis produced a solo homer in the bottom half and the Mets lost, 3-2.
Lefty batters had been 3-for-19 with three walks against Rice entering the appearance.
"This guy gets so many groundballs," Collins said about Rice. "… And he hasn't given up a hit to a lefty all year. I mean, like one hit to a lefty all year. We tried to get a groundball from Ethier to get out of the inning.
"I'm trying to keep from having to use Bobby in tie games every time. If I start the inning with him and he has a 20-some-pitch inning, I don't have him for tomorrow. I said, 'Well, if I have to, maybe we can just use him against one hitter to get out of the inning.' It just didn't work like that."
Collins said he really has to "protect" veteran relievers Atchison and Brandon Lyon from overuse.
"We're already wearing him down a little bit," Collins said about Lyon.
Collins added: "Some of those young guys, we've got to get them in some of these games, let them pitch in some tough situations to get them ready. Because you don't know when you're going to need them."
The use of Rice in the critical spot is a testament to Collins' faith in the 31-year-old rookie -- and certainly an indication of Rice's superior performance thus far compared with fellow lefty Josh Edgin. Rice has now entered in the eighth inning or later in each of his past five appearances.
"It feels great that they have confidence in me," Rice said. "I've just got to forget about this one and go out there tomorrow and keep doing what I've been doing."