Ike Davis did homer in the ninth inning to pull the Mets within a run. But Terry Collins did not sugarcoat the fact that Davis is struggling.
Davis (1-for-4) struck out in each of his previous two at-bats, in the latter instance stranding two runners in scoring position with the score tied.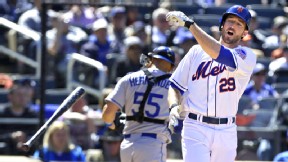 Seth Wenig/Associated Press
Ike Davis reacts after a strikeout Thursday.
"As we've studied his at-bats, they're just killing him away," Collins said after the Mets lost to the Dodgers, 3-2, Thursday afternoon. "So we've tried to get him to where he covers the outside part of the plate. Ike has moved up on the plate to take away the outside pitch. And I thought last night, the two balls he hit to left field, were the start. If he starts going that way to where he's going to use more of the field to hit, he's got some better opportunities to drive some runs in. I hope the home run gets him going also.
"It's about contact," Collins continued. "These big home run hitters, they're going to strike out. That's part of the program. Ike, when he's going good, he gets hits. He just doesn't get home runs. You go back two years ago in the first half where he drove in everybody who was standing at second base. They were base hits. They weren't always home runs. I think if he again starts using the field more -- especially the opposite field -- it also takes that shift away from them, which a lot of teams play on him. And I think it'll make a difference."
Davis apparently wasn't as sure opposite field was the route to break out of a rut, telling reporters postgame: "Sometimes they're helpful. Sometimes they're not. Me slapping the ball the other way early in the count is probably not helpful."