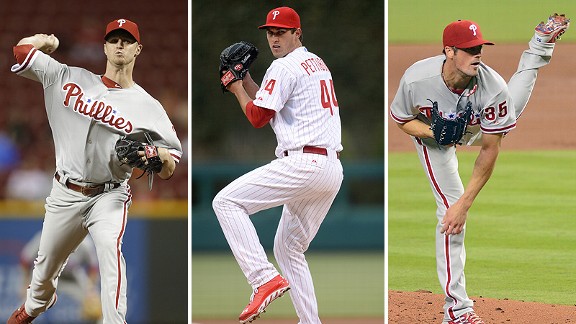 Associated Press/USA TODAY Sports
The Mets face (l to r) Kyle Kendrick, Jonathon Pettibone and Cole Hamels this weekend at Citi Field.
METS (10-10, second place/NL East) vs. PHILADELPHIA PHILLIES (9-14, fourth place/NL East)
Friday: RHP Dillon Gee (1-3, 5.95) vs. RHP Kyle Kendrick (1-1, 3.28), 7:10 p.m. ET
Saturday: RHP Shaun Marcum (0-0, -.--) vs. RHP Jonathan Pettibone (0-0, 3.38), 1:05 p.m. ET
Sunday: LHP Jonathon Niese (2-1, 3.81) vs. LHP Cole Hamels (0-3, 5.40), 1:10 p.m. ET
Phillies short hops
• Jonathan Pettibone is making his second major league start Saturday. He is the son of right-hander Jay Pettibone, who started four games -- all losses -- for the Minnesota Twins in 1983, on a team that included Tim Teufel and Frank Viola. The younger Pettibone debuted Monday against the Pittsburgh Pirates and accomplished something his father failed to do: participate in a win. Pettibone, 22, limited the Pirates to a pair of solo homers and four other hits in 5 1/3 innings while striking out six and walking none. The Phillies won, 3-2.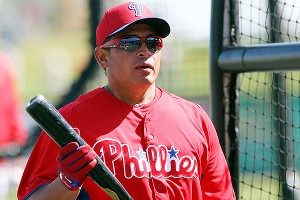 Kim Klement/USA TODAY Sports
Carlos Ruiz is due to be activated Sunday after serving a season-opening 25-game suspension.
• Carlos Ruiz is eligible to be activated Sunday after completing a 25-game suspension for testing positive for a banned amphetamine. Ruiz's tune-up for activation was slowed because he was hit on his left wrist with a pitch in an extended spring training game last Friday. X-rays were negative. Erik Kratz and Humberto Quintero have handled the catching in Ruiz's absence.
• Delmon Young, who signed for a guaranteed $750,000 and incentives on Jan. 22, has started a rehab assignment and is due to join the Phillies within weeks -- although not for this Mets series. He underwent right ankle surgery during the offseason. Young is the projected right fielder, although he must get acclimated. He had not played in a game there since 2007 until rehab games this week. John Mayberry Jr. has produced with Young out.
• The Phillies, who are struggling on offense, went four full games without a walk until Chase Utley got a free pass on April 19. How rare is that? In the NL, the last teams to have gone four straight games without a walk were the 2009 Arizona Diamondbacks, 1976 Montreal Expos, 1952 New York Giants and 1935 Chicago Cubs.
• Utley already has four errors.
• Ryan Howard homered for only the second time this season on Wednesday, against Wandy Rodriguez. In that game, Charlie Manuel split up Utley and Howard in the lineup so opposing managers could not insert one lefty specialist to face both without seeing a righty batter in between.
• This is the deepest Cole Hamels has gone into a season without a win since 2009, when it took the southpaw until his fifth start on May 8 for a victory.
• Manuel is in the final year of a contract. He told ESPN's Jayson Stark: "I plan to keep managing -- unless I decide all of a sudden I don't want to do it."
Said GM Ruben Amaro about the subject: "Honestly, I don't think about his situation at all. I don't think the players give two craps about it. I don't think it's even a factor, not with our guys … I don't know if a contract for the manager should be a motivating factor for any player. They should be motivated by winning. That's it."
• Center fielder Ben Revere is battling a nagging quadriceps injury. After Revere started every previous game this season, ex-Mets farmhand Ezequiel Carrera instead was inserted in the lineup Thursday afternoon.
• The Phillies have lost three in a row (with Hamels, Roy Halladay and Cliff Lee pitching) and eight of 11.
• Since surrendering seven runs in four innings against the Mets on April 8, Halladay is 2-0 with a 1.71 ERA in three starts. He has allowed eight hits in 21 innings over that span.
• At 9-14, the Phillies are in the midst of their worst start since 2006.