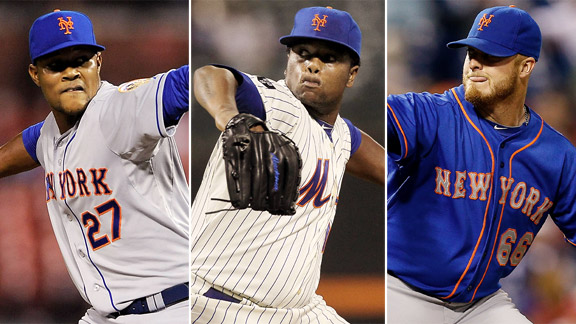 Getty Images
The Mets will need to clear a roster spot for Shaun Marcum. The candidates (l to r): Jeurys Familia, Robert Carson and Josh Edgin.
FIRST PITCH: Shaun Marcum, who signed a $4 million deal on Jan. 30 that included the opportunity to double that amount by achieving incentives, is due to make his Mets debut today as the Mets oppose the Philadelphia Phillies at 1:05 p.m. at Citi Field.
Marcum received injections on April 4 to calm an inflamed nerve that was causing pain in his neck and shoulder. He never appeared in an official minor league rehab game, instead pitching in extended spring training against low-level competition. Marcum threw 52 pitches in five scoreless innings Monday in Florida, then continued to toss on the side to try to up his pitch count. He likely will be capped at roughly 90 pitches today, Terry Collins indicated.
The Mets will need to make a pregame roster move, subtracting a member from the bullpen, in order to clear room for Marcum. Josh Edgin has struggled badly, although he had a 1-2-3 ninth Friday. The alternatives: Jeurys Familia or, seemingly less likely, Robert Carson. Familia tossed two scoreless innings in the series opener against Philadelphia. That workload led to speculation he may be out.
Marcum faces right-hander Jonathan Pettibone in the rookie's second major league start.
Saturday's news reports:
• The Mets dropped below .500 for the first time this season with a 4-0 loss to the Phillies in Friday's series opener. Dillon Gee matched zeroes with Kyle Kendrick until the sixth, when Gee surrendered a run-scoring single to Michael Young and three-run homer to Ryan Howard. Kendrick produced a three-hit shutout. It marked the fourth time in five games the Mets mustered five hits or fewer. Perhaps recognizing the Mets like to take pitches, Kendrick threw a season-high 71 percent first-pitch strikes, according to ESPN Stats & Information.
DEEP THOUGHTS
All time home run leaders against the Mets.
Howard, the active home run leader against the Mets with 36, now has four homers in 12 career at-bats against Gee. That is the most homers Gee has surrendered to any player. Read game recaps in the Post, Daily News, Star-Ledger, Record, Newsday, Times, Philadelphia Inquirer and MLB.com.
• Collins preached patience and insisted any consideration about demoting Ike Davis is a long way away. The manager tried to compare Davis' struggles to the woes of Matt Kemp, who arrived in Queens with the Dodgers this week homerless. Yet Kemp still was respected by the Mets as a dangerous bat, according to Collins.
"I looked at Matt Kemp's numbers the other day," Collins said. "They weren't very good for Matt Kemp. I'm still scared to death of him. And you can be sure that the Philadelphia Phillies, when Ike Davis gets in the batter's box, they're worried, because they know he's going to get out of it."
Davis was dropped to No. 7 in Friday's lineup and went 0-for-2 with a walk. His average dipped to .169. Read more in the Record, Post and Star-Ledger.
• Collins' Friday lineup juggling also included Daniel Murphy moving into the No. 3 slot and David Wright to cleanup, both for the first time this season. Read more in the Times.
• Read more on Marcum's Mets debut and the impending roster move in the Journal, Post and Star-Ledger.
• Columnist Ken Davidoff in the Post analyzes the state of the struggling Phillies and Washington Nationals, and wonders if the Mets will make a trade if those teams stumble and the Mets end up more in contention than they thought. Writes Davidoff:
The Mets say they have the funds to add payroll during the season, and their prospect/trade chip base has grown with the development of pitchers like Rafael Montero, Luis Mateo and Cory Mazzoni. Will they have cause to make a move, courtesy of the Phillies and Nationals? I'd like to see it, just to learn whether the Mets would live up to their word. After a night like this, though, you wonder whether the possibility of the 2013 Mets being relevant is the true mirage.
• In a batter of young NL East phenoms, Matt Harvey is scheduled to oppose Marlins right-hander Jose Fernandez on Monday in Miami. Fernandez, who limited the Mets to one run in five innings in his major league debut on April 7, had allowed nine runs in nine innings over his past two starts -- at Cincinnati and at Minnesota.
In Miami, lightning-rod owner Jeffrey Loria denied influencing which game of a doubleheader Fernandez pitched at Minnesota this week, according to Manny Navarro in the Miami Herald.
• Catcher Carlos Ruiz is due to join the Phillies on Sunday after completing a 25-game suspension for amphetamines. "It's been a little hard for me," Ruiz told John Smallwood in the Philadelphia Daily News while rehabbing with Double-A Reading. "Definitely, I would like to be with the team. I want to help the ballclub win games. But now it's just about over. I'm real close, and I can't wait to see [Sunday]. It was tough, but at the same time, you had to prepare yourself to be ready for when you came back. I'm not happy with what happened, but there was nothing I could do except work every day."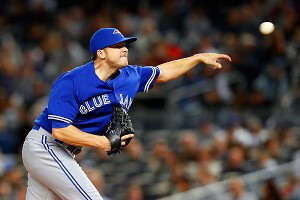 Jim McIsaac/Getty Images
Aaron Laffey was ineffective Friday night in the Bronx after being claimed by the Jays.
• Aaron Laffey, claimed off waivers by the Toronto Blue Jays a day after being designated for assignment by the Mets, started in the Bronx on Friday night in place of Josh Johnson, who had triceps tightness. Laffey lasted only 2 2/3 innings and walked five. He was charged with two runs. Brad Lincoln inherited the bases loaded from Laffey and stranded three by striking out Ichiro Suzuki.
Richard Griffin in the Toronto Star notes Jays GM Alex Anthopoulos has made a massive number of waiver claims. Writes Griffin:
The Jays have made 21 such claims since Oct. 17, 2012. That is crazy high. Here is the list: OF Scott Cousins; RH Cory Wade; RH Tyson Brummett; C Bobby Wilson; RH David Herndon; RH Chad Beck (twice); LH Scott Maine; C Eli Whiteside; RH Mickey Storey; IF Russ Canzler; RH Tommy Hottovy; 1B Lars Anderson; RH Guillermo Moscoso; RH Todd Redmond; 1B Clint Robinson; RH Alex Burnett; RH Edgar Gonzalez; 1B Mauro Gomez; OF Casper Wells and Laffey. Only eight of the 20 different claims (Beck twice) are still in the organization. Only Laffey is on the Jays' 25-man roster. Only Laffey, Robinson, Gomez and Redmond remain on the 40-man roster.
• Howard Johnson, back in baseball as the first-year hitting coach for Triple-A Tacoma (Seattle Mariners), is in Las Vegas this weekend facing Mets-affiliate Las Vegas. Regarding 51s manager Wally Backman getting a major league managerial gig, HoJo told the Las Vegas Sun: "One of these days, Wally is going to get a shot. I would love to be one of his coaches. It's important to have people that you know and trust. We go back a long way and share a lot of the same experiences."
• Zack Wheeler is 0-1 with a 5.79 ERA in five starts with Las Vegas. He has allowed 26 hits and 15 walks while striking out 28 in 23 1/3 innings. Opposing Pacific Coast League batters are hitting .283 against him.
"His velocity is good and his mechanics are good," Sandy Alderson told columnist John Harper in the Daily News. "That's what's most important. And he threw well for four innings [Thursday]. We're looking for his development as opposed to his line scores. But there's no question it's a big adjustment pitching in that league."
Read more in the Star-Ledger.
• Rafael Montero suffered his first 2013 loss as Binghamton was blanked by Akron, 4-0. Montero (3-1, 1.95 ERA) allowed two runs on four hits and two walks in five innings. He struck out eight. Dustin Lawley homered twice as St. Lucie beat Bradenton, 5-2. Read the full minor league recap here.
• Jonathan Lehman in the Post profiles Binghamton left-handed reliever Jack Leathersich. Although he allowed two hits and a walk last night, Leathersich also struck out three in a scoreless ninth to keep his ERA at 0.00 for the season. The 2011 fifth-round pick from UMass-Lowell has 157 Ks in 95 2/3 professional innings.
• ESPN West Palm launched a weekly video segment featuring the St. Lucie Mets. Watch the first installment here.
• From the bloggers … Faith and Fear in Flushing realizes some losses are less miserable than inevitable. … Shannon from Mets Police has some thoughts about the Mets' efforts on social media.
BIRTHDAYS: Smithtown, Long Island's Frank Catalanotto is 39. … Orber Moreno turns 36. … Eric Hillman is 47. … Brian Giles turns 53.
TWEET OF THE DAY:
My secret life before the Mets has come out. Posed for January,1979 issue of GQ. twitter.com/Jay_HorwitzPR/…

— Jay Horwitz (@Jay_HorwitzPR) April 26, 2013
YOU'RE UP: Who should the Mets demote/release from the bullpen to clear a roster spot for Shaun Marcum?