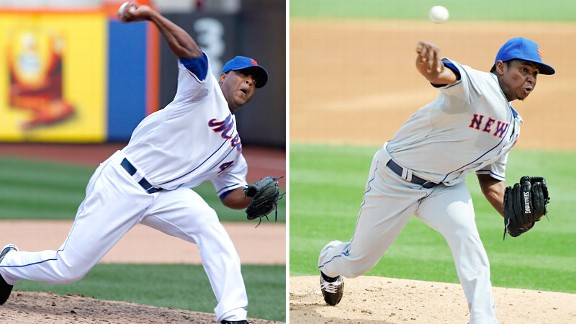 Getty Images
Frank Francisco and Jenrry Mejia are making progress in Port St. Lucie.
Frank Francisco began an official rehab assignment with Class A St. Lucie on April 17, then made one more appearance with the Florida State League club three days later.
So what's happened in the week since?
Pitching coach Dan Warthen said Francisco merely skipped the club's road trip and instead continued to pitch and progress in extended spring training games.
Warthen said Francisco's velocity is "creeping up" and he now has enough arm strength to throw an effective splitter. Francisco has not pitched on consecutive days yet, which likely is a prerequisite to be activated from the season-opening DL stint.
Warthen said he did not know a precise timetable for Francisco's return from the DL, where the reliever landed for elbow inflammation, but there is a maximum 30-day rehab clock. So Francisco should be back no later than May 17.
• Jenrry Mejia, working back from forearm tendinitis, is due to throw batting practice today for the first time since the injury arose during spring training.
• Tim Byrdak continues to progress from surgery to repair a torn anterior capsule in his left shoulder. Byrdak has reached 180 feet in his long-tossing on flat ground and should be on a mound during the upcoming week for the first time since the surgery.
• Pedro Feliciano, like Francisco, avoided the St. Lucie Mets' road trip and is pitching in extended spring training games, Warthen said.