Demoting Josh Edgin was no great surprise, even to Edgin himself. Sending Edgin to Double-A Binghamton rather than Triple-A Las Vegas was an interesting twist.
Terry Collins said there were two factors involved in the Eastern League assignment: Having Edgin close to New York in case there was an injury and he needed to quickly return. And, secondly and likely more of a factor: The offense-first Pacific Coast League just isn't conducive to a pitcher trying to get back on track.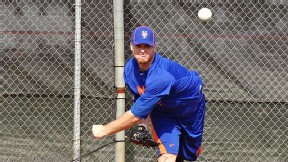 Adam Rubin
Josh Edgin has been dispatched to Double-A Binghamton.
The decision marks the first time in the Mets' first-year affiliation with Las Vegas that they clearly have avoided sending a pitcher there.
"It's not that there's something wrong with his arm. It's that, right now, when you start struggling for the first time in your career, it gets in your head," Collins said. "The worst place you can send a pitcher who is struggling mentally is to Las Vegas, or to Colorado Springs, or to Albuquerque -- one of those places where you make a good pitch and the guy hits a two-run double. So I just said, 'Go to Binghamton. You know what? You're close. You're going to get your confidence back.' That's what it's all about -- when you're on the mound you know you're going to make the pitch and you're going to get an out. Some of those other parks in that Coast league -- I love the Coast League, I spent 13 years there -- but if you're struggling mentally, it's not the place you want to be."
Collins in recent days had suggested last year's extreme usage might be resulting in Edgin not performing well this year. Asked to elaborate on what is different with Edgin's pitches, Collins said: "I only go on my experiences of seeing a young pitcher who gets up and down that many times, it's just that their arm doesn't respond. They're not making the pitches. There's just not the crispness on the fastball. And I don't mean, necessarily, velocity. Because his velocity has been OK. I mean, last night he was 93 mph. The one night in, I think it was Minnesota, he threw 95. So we know it's still there."
Collins is convinced any sluggishness resulting from the 2012 workload will come back -- even if it takes a month or six weeks. The manager speculated Edgin may also have been a little overwhelmed given the birth of his first child during spring training.
Edgin said he feels fine.
"It doesn't feel any different," Edgin said about his arm. "It's just different getting used to it, how they use you and stuff."
He could not quibble with the demotion.
"I was throwing like crap," Edgin said. "Obviously all the guys that are throwing well, I wouldn't want to see them go.
"Even though I am throwing like crap, I don't think they want to see me go," he continued. "And I'm throwing like crap. I'm going to go down and get things fixed and I'll be back here."