WHAT IT MEANS: The Mets demoted Josh Edgin to Double-A Binghamton before Saturday's game against the Phillies to clear a spot for Shaun Marcum.
Both of the left-handed relievers to survive that cut now have experienced meltdowns in recent days.
Inserted for Marcum to open the fifth inning with the Mets trailing by a run, Robert Carson surrendered five runs, including a three-run homer to Domonic Brown and solo shot to John Mayberry Jr.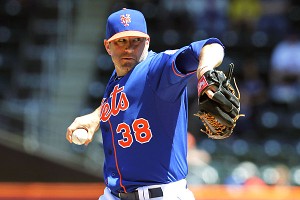 Jason Szenes/Getty Images
Shaun Marcum allowed three runs in four innings in his Mets debut.
The Phillies ultimately beat the Mets, 9-4, at Citi Field.
Carson's subpar appearance came two days after Scott Rice, the other lefty in the bullpen, was charged with two ninth-inning runs and suffered his first major league loss.
The Mets' MLB-worst bullpen ERA rose to 5.28.
The Mets (10-12) dropped to two games under .500. They are 5-0 in games started by Matt Harvey and 5-12 otherwise.
FOUR-LORN: Marcum lasted four innings in his Mets debut. He allowed three runs on five hits and two walks while striking out three in a 71-pitch effort.
Marcum departed for pinch-hitter Justin Turner with runners on the corners and two outs in the bottom of the fourth and the Mets trailing, 3-2. Turner took a called third strike from Phillies rookie starter Jonathan Pettibone (5 IP, 7 H, 3 ER).
Could Marcum have continued? Perhaps for another inning. But the Mets have been struggling for runs. And Marcum barely had ramped up in preparation for his Mets debut anyway.
Marcum threw only 52 in-game pitches in an extended spring training game Monday in Florida, but was declared ready for a regular-season game.
Marcum's fastball sat at 85 mph, with an occasional 86 mph Saturday. All three runs against him came in the third inning -- on Chase Utley's RBI double, a wild pitch and Ryan Howard's sacrifice fly.
BUCK SHOT: John Buck had a solo homer in the ninth, giving him 23 RBIs. That's the most April RBIs since David Wright also had 23 in 2008. The franchise record for the month is by Jeff Kent (26 in April 1994). Buck has eight homers.
WHAT'S NEXT: Jonathon Niese starts on turn after being forced from his last outing in the third inning because he was struck in the right ankle with a sharp comebacker. Niese (2-1, 3.81 ERA) opposes winless Cole Hamels (0-3, 5.40) in Sunday's 1:10 p.m. series finale as the Mets attempt to avoid getting swept.