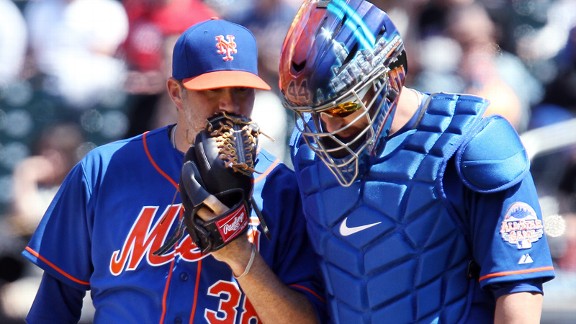 Peter Morgan/Associated Press
Shaun Marcum and John Buck meet at the mound during Saturday's third inning.
Shaun Marcum's self-review of his Mets debut?
"It's not what I wanted from a statistical standpoint or helping this team," Marcum said after surrendering three runs on five hits and two walks in a 71-pitch effort over four innings. "I wasn't very efficient with my pitches there in the second and third inning. My pitch count rose pretty quickly in those two innings.
"As far as health, everything felt pretty good."
Marcum, activated from the DL after putting neck and shoulder pain related to a nerve issue behind him, was lifted for pinch hitter Justin Turner with runners on the corners and two outs in the bottom of the fourth.
Turner struck out looking and the Mets eventually lost, 9-4, to the Phillies on Saturday at Citi Field.
"To be honest, we were going to let him start the [next] inning, but he only had two or three hitters he was going to face," Terry Collins said about lifting Marcum. "I thought at that time, with Justin sitting over there, we might take a shot at getting us back in the game."
Said Marcum: "I felt like I had a lot more left in me. It was just a situation where we had to get Justin up there and try to get those RBIs and those guys in at that time."
John Buck, who also caught Marcum with the Toronto Blue Jays, described the outing as shades of "vintage" Marcum.
"He had left a couple of balls up that got hit," Buck said, "but for the most part that's kind of vintage Shaun. Very aggressive with all of his stuff. He can throw anything and everything at any time, which obviously makes it tough to really sit on anything."
Robert Carson proceeded to allow five runs in the fifth, with the big blows coming on consecutive homers by Domonic Brown and John Mayberry Jr.
"I missed on my slider up and in right there, and Brown just hammered it," Carson said. "And then we tried to go fastball in to Mayberry. I didn't get it in far enough and he just ambushed it and got it over the wall."
Asked for the remedy for a bullpen that now has an MLB-worst 5.28 ERA, Collins replied that it's getting the starting pitchers to go deeper into games. Mets starters have averaged 5 1/3 innings per outing. Subtract Matt Harvey and that number drops under five innings per start.
"Our starters have to get us deeper in the game," Collins said. "We're using guys in the fifth and sixth innings that should be pitching the seventh and eighth."
Still, with the Mets dropping two games under .500 for the first time this season, Collins said there's no need for a speech.
"I don't talk to them every night," Collins said. "That's football stuff. We play every day. They don't need to hear it every day. They know. They've very, very aware of the situation."