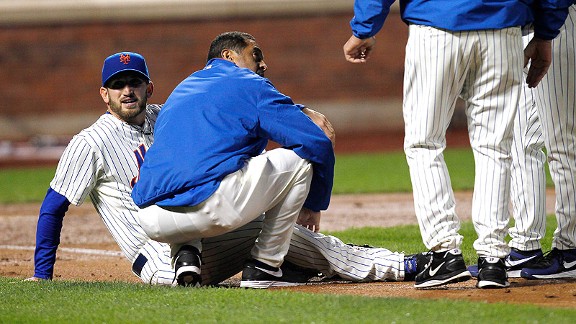 Jeff Zelevansky/Getty Images
Jon Niese pitches this afternoon for the first time since getting struck in the right ankle Tuesday.
FIRST PITCH: The Mets will try to avoid getting swept as Jonathon Niese heads to the mound at 1:10 p.m. today opposite winless Philadelphia Phillies left-hander Cole Hamels.
Niese will be making his first start since getting nailed on the right ankle by a comebacker Tuesday off the bat of the Los Angeles Dodgers' Mark Elllis.
Hamels is 5-10 with a 4.33 ERA in 21 career starts against the Mets.
Terry Collins suggested outfielders Marlon Byrd and Juan Lagares likely would be in the starting lineup.
Phillies catcher Carlos Ruiz is due to be activated after serving a 25-game suspension related to amphetamines.
Sunday's news reports:
• Shaun Marcum surrendered three runs in four innings and was dissatisfied with his Mets debut. Robert Carson then served up homers to Domonic Brown and John Mayberry Jr. in the fifth as the Met lost to the Phillies, 9-4, Saturday at Citi Field. The Mets have now lost eight of their past nine games against Philadelphia. Read game recaps in the Post, Daily News, Times, Star-Ledger, Record, Newsday, Philadelphia Inquirer and MLB.com.
• The Mets demoted Josh Edgin to clear the roster spot for Marcum. Edgin reported to Binghamton, not Las Vegas, because the offense-first Pacific Coast League is not conducive to getting on track. Read more in the Record, Daily News, Star-Ledger, Newsday and MLB.com.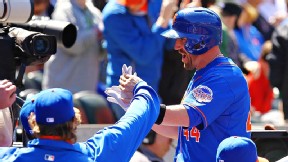 Mike Stobe/Getty Images
John Buck has eight homers in April, matching the most ever by a Mets catcher in the month.
• Steve Serby in the Post has a Q&A with John Buck, who homered in the ninth inning Friday. It was Buck's eighth long ball in April, matching Mike Piazza (2001) and Todd Hundley (1996) for most by a catcher in the opening month in franchise history. The overall Mets record for April is nine homers, by Carlos Delgado (2006) and Dave Kingman (1976). Among Buck's exchanges with Serby:
Q: You and your wife grew up together in Salt Lake City. How did you propose?
A: "I was at one of her last volleyball games [at Snow College]. They called her to the 10-foot line at a volleyball game. ... I proposed to her at the 10-foot line in her volleyball game."
Buck also notes that Harvey reminds him of Zack Greinke.
• Cody Derespina in Newsday goes inside the numbers of Buck's April production, which has tailed off despite Friday's long ball.
• Attendance seems to get a modest bump at Citi Field with Harvey on the mound. As for ratings on SNY, they're 14 percent higher in games Harvey starts, according to Bob Raissman in the Daily News.
• Mike Kerwick in the Record suggests waiting a little while before erecting a statue in Harvey's honor.
• Frank Francisco and Jenrry Mejia are progressing after injuries.
• Columnist Kevin Kernan in the Post suggests there is "no relief in sight" for the Mets.
• Columnist Tim Smith in the Daily News says Marcum fit in with all the other Mets starting pitchers not named Harvey.
• Terry Collins stuck to his reconfigured lineup for a second straight day Saturday. Read more in the Post.
• Logan Verrett improved to 4-0 as Double-A Binghamton beat Akron 7-2. Rainy Lara tossed 7 1/3 scoreless innings in low-A Savannah's 1-0 win against West Virginia. Read the full minor league recap here.
• Gregg Sarra in Newsday chats with St. Lucie catcher Cam Maron, who hails from Hicksville, Long Island.
• R.A. Dickey faces the Yankees in the Bronx today. Read more in the Post.
• From the bloggers … Faith and Fear in Flushing thought extended spring training continued Saturday at Citi Field … Shannon from Mets Police is watching his favorite baseball team and thinks, "I have a bad feeling about this."
BIRTHDAYS: Dillon Gee turns 27. … Jorge Sosa, who is pitching in Japan for the second straight season, is 35.
TWEET OF THE DAY:
We held our breath as long as we could they still lost. #mets instagram.com/p/Yn4W4eH9Hi/

— Chad Elliott (@chadelliottsr) April 27, 2013
YOU'RE UP: Whom should Terry Collins start in the outfield today against left-hander Cole Hamels?