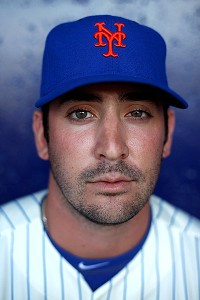 Chris Trotman/Getty Images
Matt Harvey
MIAMI -- Matt Harvey was displeased with his fastball command in what became a no-decision Monday that deprived him of a 5-0 record in April.
"You guys know me: Seven or eight innings is on my mind every time," said Harvey, who logged 5 1/3 innings and departed with two runners on base and a 2-1 lead. "I found my fastball was going over the middle a little bit too much tonight, and I wasn't able to locate everything as well as I wanted to. Coming out with one run is OK. Obviously I don't like being OK."
The Mets ultimately lost, 4-3, in 15 innings.
Harvey did say he felt strong toward the end of his outing despite tossing a career-high 121 pitches.
"I felt pretty good. I felt like I could have stayed out there," Harvey said. "That's not OK throwing that many pitches in that little amount of innings. Obviously I have to regroup and go back and watch some video and figure out how to change that and go seven or eight innings next time. We're going to flush today's loss and move forward."
As for the team's 15-inning loss, Harvey said: "It's a tough one. It's hard on all of us. Once it runs up around 1 o'clock, everyone is starting to get tired. We have that run. To put up a 3-2 lead and then lose it in that fashion, it's pretty draining, and none of us are happy right now."