MIAMI -- David Wright and Terry Collins unsuccessfully argued that Chris Coghlan overslid third base in the ninth inning and should have been out. Replays supported their assertion.
Still, Wright said, the disputed call by third base ump Tim McClelland was not the reason the Mets lost Tuesday's game 2-1 in walk-off fashion. It was the fact the Mets again mustered little offense.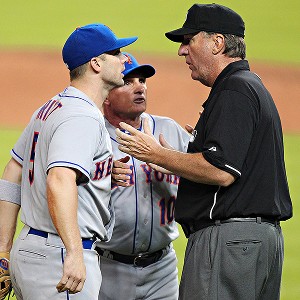 David Santiago/Getty Images
David Wright and Terry Collins dispute Tim McClelland's safe call at third base in the ninth inning.
The Mets produced only four hits Tuesday night. They are hitting .189 (76-for-402) in their past 12 games. And they are hitting .098 (4-for-41) with runners in scoring position during their current six-game losing streak.
Collins also refused to throw McClelland under the bus after reviewing a replay. The manager did say he asked McClelland to seek help from other umps, but that was rebuffed.
"He said he was getting in position to make the call," Collins said. "I said, 'Tim, everybody in baseball is asking for help.' He said, 'I don't need it. Nobody else could see that play but me.'"
Said Wright: "Sometimes the calls go your way. Sometimes they don't. What we need to do a better job of is offensively going out there and scoring more runs. We can't expect to win games 1-0. Offensively we need to do a better job ... It seems like the better teams, they go through a rut like this and it only lasts a series or two. We can't allow it to kind of consume us and take over for a week, two weeks. We've got to snap out of it. That starts offensively and going out there and having good at-bats."
With the Mets leading 1-0, Coghlan had opened the ninth inning with a single against Jeremy Hefner. Anthony Recker then was charged with a passed ball, when he lost the ball because it was obstructed by Juan Pierre's bat. With Coghlan having advanced to second, Pierre bunted, and Recker too aggressively tried to go to third base. Coghlan overslid but the Mets did not get the call. Brandon Lyon entered with runners on the corners and the Mets ultimately lost, 2-1.
Collins said Recker needed to make sure of an out, even if it meant getting Pierre at first base on the bunt.
"He dropped it pretty much right in front of the plate for me," Recker said. "I knew we needed to get an out. I just tried to make a play I probably shouldn't have tried to make. We talked about it before the bunt -- 'get an out.' But he laid it in front of the plate. My instincts told me to go to third. Obviously the throw was a little bit high. If it was a good throw we might have had him. I probably don't need to make that play. I just need to get an out."