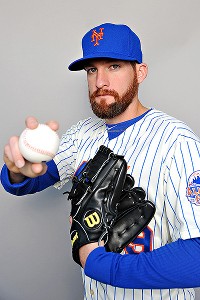 Steve Mitchell/USA TODAY Sports
Bobby Parnell was upset with going unused Tuesday.
MIAMI -- Bobby Parnell shooed away a reporter after Tuesday's 2-1 loss, telling him: "Nope." The closer did not have to say anything more to demonstrate his displeasure with going unused with the Mets clinging to a one-run lead in the ninth inning.
Terry Collins said he knows Parnell is upset. But the manager wanted to protect Parnell from overuse and injury risk, so he went with Brandon Lyon instead after Jeremy Hefner departed with runners on the corners and none out. Lyon ultimately allowed both inherited runners to score.
Parnell had logged a season-high 35 pitches over two innings Monday night in a blown save. He had worked Sunday, too, and four of the past six days overall.
"Last year I did this to him and he ended up having a sore elbow," Collins said about overusing Parnell. "And I'm not going to do that the first day of May. He's mad and he should be, because he's the closer. I'm just not going to break this guy this early. We didn't have him. Brandon pitched great last night. He had a tough situation with Juan Pierre at first base. You know he's going to get into scoring position. You've got to get outs, and we didn't get them."