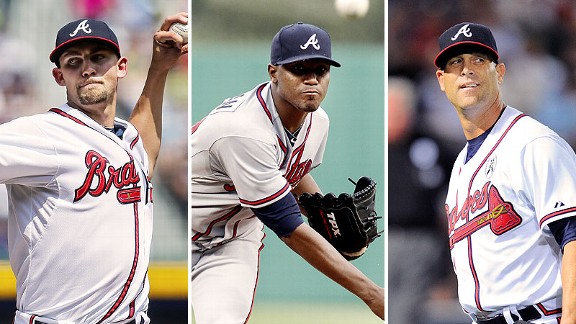 USA TODAY Sports
The Mets are due to face (l to r) Mike Minor, Julio Teheran and Tim Hudson this weekend.
METS (11-15, fourth place/NL East) vs. ATLANTA BRAVES (17-10*, first place/NL East)
Friday: RHP Shaun Marcum (0-2, 7.94) vs. LHP Mike Minor (3-2, 3.13), 7:30 p.m. ET
Saturday: LHP Jonathon Niese (2-2, 3.31) vs. RHP Julio Teheran (1-0, 5.08), 7:10 p.m. ET
Sunday: RHP Matt Harvey (4-0, 1.56) vs. RHP Tim Hudson (3-1, 3.86), 1:35 p.m. ET
* Atlanta plays Washington on Thursday night
Braves short hops
• Justin Upton's 12 homers in April were two shy of matching the major league record for that month. Alex Rodriguez (2007) and Albert Pujols (2006) each homered 14 times. Luis Gonzalez (2001) and Ken Griffey Jr. (1997) had 13 homers apiece. Matt Kemp (2012) also had 12. The old Braves record for April was 10 and belonged to Andres Galarraga (2000 and 1998) and Ryan Klesko (1996). Eleven of Upton's homers were solo shots -- the most by a major leaguer in any month since Jason Giambi in July 2005.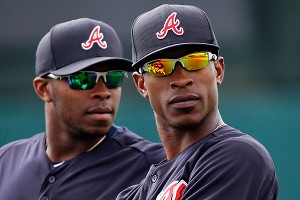 David J. Phillip/Associated Press
The Upton brothers already have homered three times in the same game this season.
The next time Justin and brother B.J. Upton go deep in the same game, they will match a sibling record. Jason and Jeremy Giambi had four games in which they both went deep. Vladimir Guerrero and Wilton Guerrero had four, too. The Uptons have three such games this season.
According to Elias, the Uptons may become the fourth brothers to play at least 100 games each in the outfield for the same team in the same season. The others: Paul and Lloyd Waner for the Pirates (10 times from 1927 to 1938), Jesus and Matty Alou for the Giants (1965), and Tony and Billy Conigliaro for the Red Sox (1970).
• Tim Hudson earned his 200th win Tuesday, becoming the fifth pitcher to reach the milestone in a Braves uniform. Hudson joined Phil Niekro, Greg Maddux, Tom Glavine and John Smoltz, according to the Elias Sports Bureau. Watch out for Hudson's bat, too. He became the first Braves pitcher since Carl Morton in 1973 to produce a double and a homer in a game. Only one other pitcher homered in the game he earned his 200th victory: Bob Lemon in 1956, Elias reported.
• Third baseman Chris Johnson, who arrived with Justin Upton from the Arizona Diamondbacks, leads the NL in batting average at .369, narrowly ahead of ex-Met Carlos Gomez (.367) with Milwaukee. The righty-hitting Johnson is sharing the hot corner with lefty-hitting Juan Francisco.
• Right fielder Jason Heyward underwent appendectomy surgery April 22 and will not return until the end of the month. Lefty-hitting Jordan Schafer and righty-hitting Reed Johnson are platooning in Heyward's absence. Schafer, who had been traded by Atlanta to the Astros on July 31, 2011 in the Michael Bourn deal, was claimed by the Braves off waivers from Houston in November. Schafer, 26, hit .211 in 313 at-bats with Houston in 2012.
• Defensive whiz Andrelton Simmons ranked second among shortstops in defensive runs saved last season at +19 despite playing only 49 games. Seattle's Brendan Ryan was a +27. Simmons is part of a group of promising MLB shortstops from Curacao. That list also includes the Diamondbacks' Didi Gregorius as well as the Rangers' Jurickson Profar (ESPN.com's No. 1-ranked prospect), Red Sox's Xander Bogaerts (ESPN.com No. 5) and Orioles' Jonathan Schoop (ESPN.com No. 50).
• If Craig Kimbrel converts his next two save chances, he will match Joakim Soria for the third-quickest to 100 saves (112 chances), according to Elias. Eric Gagne has the record, reaching the milestone in 104 chances. John Smoltz ranks second, at 107 chances. Kimbrel's 89.1 conversion percentage (98-for-110) ranks fifth all time among pitchers with at least 100 chances. Kimbrel's strikeout rate last season (16.7 per nine innings) established a major league record (min. 50 innings).
• Atlanta relievers have an MLB-best 1.99 ERA. The Mets rank 28th at 4.87, better than only Tampa Bay (5.20) and St. Louis (5.77).
• Catcher Brian McCann (right shoulder surgery) has started a rehab assignment but is not due to be activated from the DL until after the Mets series. Rookie Evan Gattis (six homers) and Gerald Laird have shared the duties. Gattis, who has battled severe depression and was completely out of baseball for years, was named NL Rookie of the Month for April on Thursday.
• The Braves struck out 246 times in April, which would have been a major league record for that month. What disrupted infamy? The Houston Astros topped that, striking out 267 times for the new MLB mark. The previous record had been held by the 2003 Cincinnati Reds, with 242 April strikeouts.
Overall in baseball, there were more strikeouts this April (5,992) than in any other season in MLB history. The 15.29 strikeouts per game in April were second most for a month in MLB history, just shy of the record set last September (15.42).
• Ernie Banks (228) is the only middle infielder with more homers in his first seven seasons than second baseman Dan Uggla (209).