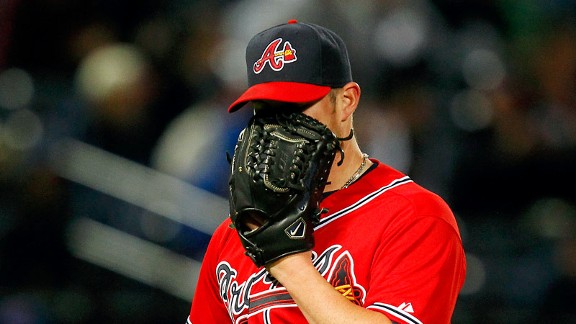 Butch Dill/Getty Images
Craig Kimbrel reacts in disgust after surrendering a game-tying solo homer to David Wright in the ninth.
ATLANTA -- What pitch did David Wright hit for a game-tying solo homer against Atlanta Braves closer Craig Kimbrel in the ninth?
After the Mets completed a 7-5, 10-inning win Friday night at Turner Field, Wright suggested he was not quite sure.
"I had my eyes closed. I don't know," Wright said after his 464-foot shot with one out in the ninth evened the score at 5. "I think it was a fastball. He throws so hard that he supplies the power. You've just got to try to in your mind slow it down a little bit and try to meet it. Because when he's throwing 97, 98 and you can just make contact, a lot of times he provides the power and the work for you."
Wright's homer allowed the Mets to produce their first win in Atlanta when trailing in the ninth inning in 20 years, according to ESPN Stats & Information.
On Sept. 18, 1993, the Mets won 3-2 in 10 innings on Tito Navarro's pinch-hit RBI single against Steve Bedrosian. The Mets had a two-run ninth that day, with Todd Hundley and Dave Gallagher producing consecutive two-out RBI singles against Greg McMichael.
Kimbrel had entered the game two successful save conversions shy of becoming the third-quickest closer in major league history to 100 saves. (It would have been 112 chances.) Instead, he suffered his 13th blown save in 111 career chances.
In 16 previous games against Kimbrel, the Mets had a .148 batting average against him. They had struck out 27 times in 54 at-bats. And they had only one extra-base hit -- a solo homer by Lucas Duda on Sept. 18, 2011 in a non-save situation with the Braves already trailing.
"I'm not really sure how many hits we've ever got off Kimbrel, let alone a home run," Terry Collins said. "As I said the other night, there's a reason why No. 5 is a star -- because he comes up with big things at big times. A huge hit for us. We really needed it."
Said Wright: "Against him, it's almost close your eyes and swing hard and hope you hit it. He's as dominant as anybody in the game. So, really, you've just got to hope that he even makes a minor mistake, or really you don't have much of a chance. So on that one it was kind of more luck than anything."
Wright's 464-foot shot was his longest since ESPN began tracking homers in 2006, and the longest by a Met since a 467-foot shot by Carlos Delgado on June 27, 2008. It also was the longest Kimbrel has allowed in his career, according to ESPN Stats & Information.
"He's definitely a guy you can't make a mistake to, especially up in the zone with a fastball," Kimbrel said. "… He hit that good. You can't make mistakes to him, and I did. And that was the difference in the ballgame.
"It's frustrating when you feel like you're pitching well on a certain night and you still get beat, because you make a mistake. That's a mistake that could've been avoided, but I didn't do it, and I paid for it."
Considering the Mets' consecutive heartbreaking losses in Miami ran their losing streak to six, Wright suggested Friday's dramatics were especially pleasing.
"To be a good team, you've got to win the close games and you've got to win the majority of those extra-inning games," Wright said. "So, yeah, it felt great, especially after going through what we went through in Miami."