ATLANTA -- One of the reasons Jordany Valdespin is not an everyday player is his propensity to irk his own teammates and the coaching staff. Such was the case Friday afternoon, when Valdespin was the lone no-show for an early batting practice session with selected teammates after his attendance was requested.
But, then, Valdespin came through in the 10th inning off the bench. He walked as a pinch hitter with two outs in the frame and swiped second. From scoring position, he came home with the go-ahead run in an eventual 7-5 win against the Atlanta Braves on Ruben Tejada's RBI single.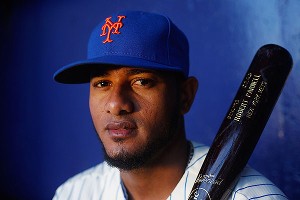 Chris Trotman/Getty Images
Jordany Valdespin is "exciting, according to Terry Collins. He can be frustrating, too.
"He's exciting," Terry Collins said. "He plays with a lot of excitement, a lot of enthusiasm, especially when it's crunch time."
Collins then wryly added: "You know, you're going to get things that you don't expect sometimes."
Collins was not specifically talking about the no-show for early batting practice with that final comment, but team insiders say the Mets were irked. Valdespin, for his part, told ESPNDeportes' Marly Rivera that he had been told not to attend by a coach.
Anyway, it is all part of the Valdespin package.
Valdespin walked on a 3-2 pitch from Jordan Walden with two outs in the 10th. With Bobby Parnell due up and the bullpen short, Collins instructed Parnell to go up there for one pitch and not swing. Valdespin would steal second. Either Valdespin would make it and Collins would pinch hit for Parnell. Or Valdespin would be caught and Parnell could pitch the bottom of the 10th.
Valdespin reached second, so Parnell was called back to the dugout and Mike Baxter pinch hit. Baxter was hit by a pitch, setting up Tejada and then Daniel Murphy for RBI singles.
"Terry did a nice job with that," David Wright said about batting and then pulling Parnell. "We were running out of players pretty quickly. So we needed to end that game."
Said Valdespin: "You don't win the game just hitting homers. You win the game stealing the base. A lot of things you've got to do to win the game. … That's my game -- stealing the bases, putting pressure on the other team."