ATLANTA -- Jeurys Familia is not unseating Bobby Parnell as the closer anytime soon. But Familia could find himself in a late-inning role if he continues to produce like Friday night, when he recorded his first major league save with a 1-2-3 10th inning in the Mets' 7-5 win against the Atlanta Braves at Turner Field.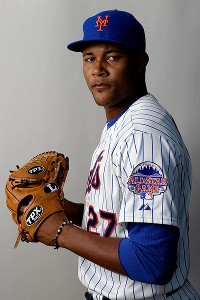 Julio Cortez/Associated Press
Jeurys Familia recorded his first major league save Friday.
Familia retired Freddie Freeman on a grounder to first base, coaxed a flyout from Evan Gattis, then struck out Dan Uggla looking to complete the comeback win.
Terry Collins recalled discussing with pitching coach Dan Warthen a future late-inning role for Familia after observing the 23-year-old right-hander at the major league level last September.
"We just said, because of the movement on his fastball and the fact he can throw 96, 97 with that sinker, that if he came up with one more pitch that he could throw over the plate, he'd be a late-inning guy," Collins said. "Whether it's the closer or whether it's the eighth-inning guy, he's got all the makings of it."
Before reaching the majors, all 109 of Familia's minor league appearances had been as a starter.
He made this year's team out of spring training with the Mets carrying an eight-man bullpen, then was dispatched to Triple-A Las Vegas when the Mets needed to promote fifth-starter Aaron Laffey.
Familia produced one save with the 51s, which he said got the nerves out of the way for handling a closing role Friday night.
"The first time I go in for a save in Las Vegas, I feel a little pressure because I've never been in that situation," Familia said. "But after that, I go out there and throw my ball for strikes and get an out."
So Friday night at Turner Field he produced his first major league and second professional save.
"I'm so excited," Familia said.