ATLANTA
FIRST PITCH: After a rainout Saturday, the Mets complete a shortened series today at 1:30 p.m. at Turner Field.
Jonathon Niese (2-2, 3.31 ERA) opposes Atlanta Braves right-hander Tim Hudson (3-1, 3.86). Matt Harvey instead gets pushed to Tuesday's homestand opener against the Chicago White Sox.
Sunday's news reports:
• Is Lucas Duda's selectivity at the plate an asset or a detriment? Writes Jorge Castillo in the Star-Ledger: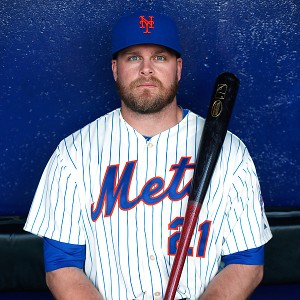 Chris Trotmanamee/Getty Images
Lucas Duda could afford to swing more frequently with runners in scoring position.
In 24 plate appearances with runners in scoring position this season, Duda has walked 33.3 percent of the time, tied for the highest rate in the league. But he has just two hits, both singles, and two runs batted in. He has struck out twice. His slugging percentage in those circumstances is just .133, the 12th-worst in the majors with runners in scoring position.
"You don't want to change a guy's approach too much, but there's certain times -- his swing percentage on first pitch is like seven percent or something -- I'd like to see him swing," Mets hitting coach Dave Hudgens said this week.
"A lot of times he wants to see what the pitcher's got. I totally understand that. But once you get into the game, in the at-bat, and there's guys in scoring position, and that guy lays a good pitch there, I want guys to be able to do some damage on it -- especially a guy like him that can hit the ball out of the ballpark."
• Ruben Tejada, on the other hand, has an excellent two-strike approach. Writes Marc Carig in Newsday:
Since 2010, when Tejada made his debut, major-league hitters have reached base at roughly a .250 clip once they land in any two-strike count. But Tejada has consistently outperformed the league average. His .319 on-base percentage on two-strike counts is the eighth highest among all hitters with at least 300 plate appearances. Tejada leads the 2013 Mets with a .362 on-base percentage when he reaches two strikes, ahead of noted two-strike battler David Wright (.355).
"Ruben's really good," Mets hitting coach Dave Hudgens said. "He fouls off a lot of pitches with two strikes. He lets the ball get deep . Yeah, he does a good job with that."
• David Wright has not been complacent after signing an eight-year, $138 million contract in December, writes Mike Puma in the Post.
• Bobby Parnell has largely succeeded in the ninth inning this season, writes Kristie Ackert in the Daily News.
• Read more on Harvey getting pushed back to Tuesday and the starting pitching in the Post.
• The Mets are 9-3 when they score five-plus runs this season and 3-12 otherwise, notes Mike Kerwick in the Record.
• Ray Glier in the Times gets inside Wright's game-tying at-bat against Craig Kimbrel on Friday night. He also looks at the Braves' ability to win despite gaudy batter strikeout totals.
• Tyler Kepner in the Times profiles the arrival of Justin Upton with the Braves.
• D.J. Mitchell allowed seven first-inning runs and Las Vegas lost to Sacramento, 11-7, Saturday night. Read the full minor league recap here.
• From the bloggers … Faith and Fear looks forward to a night of intense Mets talk this week. … Shannon from Mets Police has a 25th-favorite Met. … John Delcos from Mets Report suggests Terry Collins unfairly is being judged.
BIRTHDAYS: Ex-Mets reliever Juan Acevedo turns 43.
TWEET OF THE DAY:
is this supposed to bring the #mets luck? twitter.com/danXtanna/stat…

— Dan Tanna (@danXtanna) May 5, 2013
YOU'RE UP: Would you rather Matt Harvey pitched today against the Braves? Or are you OK with him waiting and pitching at Citi Field?