WHAT IT MEANS: The Mets finished their rain-shortened trip to Miami and Atlanta with a 9-4 loss to the Braves on Sunday afternoon at Turner Field.
Trailing 8-3, the Mets loaded the bases with two outs in the eighth. Terry Collins then inserted pinch-hitter Justin Turner for Ike Davis when Atlanta manager Fredi Gonzalez summoned left-hander Eric O'Flaherty. Turner walked on a full-count offering to force in a run, but Marlon Byrd -- who homered Friday against O'Flaherty -- this time struck out on a full-count offering to end the threat.
Lefty batters are hitting .071 (1-for-14) against O'Flaherty this season, which along with Davis' struggles explained that maneuver.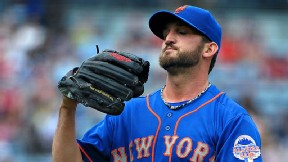 David Tulis/Associated Press
Jon Niese had a bad day Sunday at Turner Field.
NOT NIESE: Jonathon Niese did not get much help from his fielders, but he nonetheless was charged with seven earned runs on seven hits, six walks and two wild pitches in four-plus innings. The walk total matched a career high, while his runs allowed fell one shy of matching his personal worst.
The Mets unraveled in a five-run third. Left fielder Lucas Duda misread a shot to the track from Freddie Freeman, playing it into a two-run double. Another run scored on a wild pitch that John Buck failed to block. Even David Wright could have been charged with an error in the inning, although B.J. Upton officially was awarded an infield single.
The final two runs charged to Niese scored when Jeurys Familia entered with the bases loaded and none out in the fifth and surrendered a two-run single to Reed Johnson.
WRIGHT STUFF: Wright homered for the third straight game, one shy of matching his career high. His two-run shot off Tim Hudson in the fourth pulled the Mets within 5-2. Wright homered in four straight games from June 7-10, 2007.
HUDSON NEWS: Hudson, who earned his 201st career win, was charged with three runs on five hits in 7 1/3 innings.
WHAT'S NEXT: The Mets have an off-day Monday. Matt Harvey (4-0, 1.56 ERA) then opens a series Tuesday at Citi Field against manager Robin Ventura, third-base coach Joe McEwing and the Chicago White Sox. It will mark the White Sox's first-ever series in New York against the Mets. The lone previous meeting between the teams came in 2002 at Comiskey Park, when Jerry Manuel managed the Sox.