ATLANTA -- Jonathon Niese called his career-high-matching six walks inexcusable and did not sugarcoat his performance after being charged with seven runs in four innings.
"Today is one of those outings that I just want to forget about," Niese said after the Mets lost to the Atlanta Braves, 9-4, Sunday at Turner Field. "I walked way too many guys. It's embarrassing. I know what I have to work. In the bullpens, I'm going to work on pounding the zone and throwing strikes. I've just got to learn from it -- know when to expand the zone and when not to."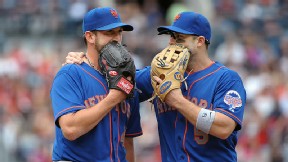 David Tulis/Associated Press
Jon Niese and David Wright chat by the mound during a rocky third inning.
Of course, Niese did not receive a ton of help from his fielders. Lucas Duda failed to pick up a fly ball from Freddie Freeman in a five-run third, playing the shot into a two-run double.
"The backdrop is kind of white, and it's kind of tough to get a read on the ball until it goes kind of out of the stadium," Duda said. "I just got beat."
The Mets did muster a modest comeback, scoring a run and loading the bases in the eighth before Marlon Byrd struck out against lefty Eric O'Flaherty. The run came when Justin Turner pinch hit for Ike Davis after O'Flaherty was inserted. Turner walked to force in a run and bring up Byrd with the bases still loaded.
"I thought I was going to hit, and then they brought in the lefty and Terry [Collins] decided to make the move, which it actually worked out," Davis said. "So you've got to just do whatever your skipper wants."
Collins lamented off-days making it difficult to have continuity in performance. David Wright, who belted a two-run homer against Tim Hudson in the fourth, agreed. The Mets, after a dramatic win Friday, were rained out Saturday.
"In Minnesota we were playing good baseball. We get some weather. It kind of breaks the momentum a little bit," Wright said. "The same thing here. It seems like we have one of the better wins this year and then weather kind of breaks up the momentum again. That's life. That's baseball. We've got to find a way to regain that momentum."