WHAT IT MEANS: Matt Harvey pitched nearly perfectly against Robin Ventura's club -- retiring 27 of 28 batters. He received the cruelest of no-decisions.
Pitching for the first time since being named NL Pitcher of the Month for April, and with three extra days of rest thanks to a rainout in Atlanta, Harvey retired the first 20 Chicago White Sox batters he faced.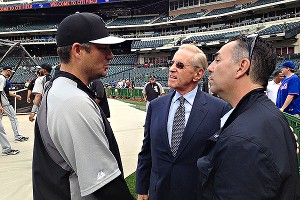 Adam Rubin
Robin Ventura, Fred Wilpon and John Franco chat during batting practice.
The perfect-game bid ended in the narrowest of fashions. With two outs in the seventh, Alex Rios sent a grounder deep into the hole at shortstop. Ruben Tejada fielded it and went airborne for a throw as his momentum carried him toward left field. First-base ump Mark Carlson properly called Rios safe by a hair and the perfect-game and no-hit bids ended.
That was the only batter who reached in nine innings against Harvey, but the Mets also failed to score. So when Bobby Parnell entered for the 10th, Harvey was saddled with a no-decision despite shaving his ERA to 1.28.
The Mets ultimately won in walk-off fashion, 1-0 in the 10th, when pinch-hitter Mike Baxter singled against Nate Jones to score Ike Davis. Davis had walked to open the inning and advanced to second on a sac bunt by Juan Lagares. It was Baxter's first career walk-off hit.
The last MLB pitchers to log nine or more innings, allow no runs and one or fewer hits and get a no-decision: Travis Wood (Cincinnati, 2010), Ben Sheets (Milwaukee, 2004), Miguel Batista (Arizona, 2002), Ryan Rupe (Tampa Bay, 1999), Francisco Cordova (Pittsburgh, 1997) and Alan Benes (St. Louis, 1997).
Harvey's 6 2/3 perfect innings marked the longest perfect stretch by a Met since Rick Reed against Tampa Bay at Shea Stadium on June 8, 1998. Reed also was perfect for 6 2/3 innings, until Wade Boggs doubled.
Harvey -- who pitched the first inning with blood running from his nose -- finished with a career-high 12 strikeouts. It was his second double-digit strikeout performance of the season (also April 3 against San Diego) and fourth of his career. His previous career high had been 11 strikeouts in his major league debut last July 26 at Arizona.
He required only 105 pitches to complete nine innings. He had been annoyed with his most recent outing in Miami, when he tossed a career-high 121 pitches in 5 1/3 innings against the Marlins.
Newark's Hector Santiago matched the zeroes Harvey was putting up before departing with his pitch count at 111 for the bottom of the eighth in a 0-0 game. The Mets left four runners on base over the first two innings and mustered only four hits against Santiago.
WHAT'S NEXT: The two-game series comes to a close Wednesday as Jeremy Hefner (0-3, 4.34 ERA) opposes right-hander Jake Peavy (3-1, 3.38) at 7:10 p.m.