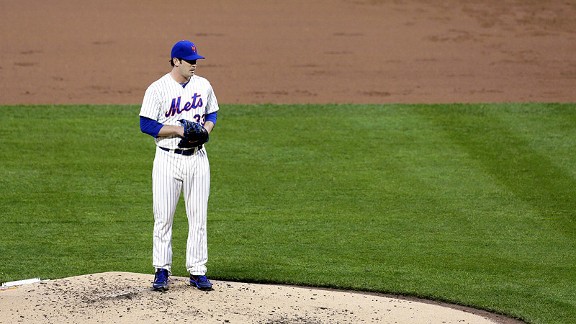 Seth Wenig/Associated Press
Matt Harvey flirted with a perfect game against the White Sox on Tuesday night at Citi Field.
Mike Baxter, who caught the ball at the wall that preserved Johan Santana's no-hit bid 11 months ago, had a feeling history might be repeating itself Tuesday night at Citi Field. So did Terry Collins, who openly said in the dugout as early as the fifth inning that Matt Harvey just might toss a perfect game.
"You kind of had that vibe that we were going down that road again," Baxter said.
Alex Rios' two-out infield single in the seventh ended Harvey's perfection, but it proved to be the only baserunner for the Chicago White Sox as the Mets won, 1-0, in 10 innings on Baxter's walk-off single.
#33 SP
New York Mets
2013 STATS
Harvey and Bobby Parnell combined to retire 30 of 31 White Sox batters. It marked only the second time since 1916 that an MLB team allowed only one baserunner in 10 innings. The other instance came on June 3, 1995, when Pedro Martinez and Mel Rojas led the Montreal Expos to a 1-0 win at San Diego.
"Everything was obviously working," said Harvey, who departed after nine innings, having allowed Chicago's only hit. "When I can throw my slider for a strike and also bounce it when I need to, that's when it starts getting fun. That was definitely the best I felt all year."
Harvey said he did not feel cheated by the only hit being an infield single. Rios hit a slider away -- a "good pitch," Harvey said, which he could not second-guess. The baseball went deep into the hole and Ruben Tejada gave a superb effort, but could not put enough mustard on the baseball to get it to first base in time.
"When the game is finishing, I saw it's a one-hit game, so you think about that," Tejada said. "I tried to do my best in that situation, but he [umpire Mark Carlson] called him safe, so he's safe."
Said Harvey: "In that hole it's tough. Obviously anything going away and then making that long throw, I knew it was going to have to be absolutely perfect. He made an awesome attempt."
The game was delayed four minutes at the outset, with Harvey the cause. He wiped his nose while in the bullpen warming up and noticed blood. Bloody noses, which were prevalent in his childhood, started recurring when the Mets were in high-altitude Colorado last month.
"They shoved as much stuff up there as they could," said Harvey, who nonetheless had blood trickling out during a 1-2-3 first inning. "... I used to get them a lot when I was younger. Unfortunately, they're starting to reoccur a little bit. Hopefully we'll get them under control."
Harvey thought history was possible as early as the fourth, when Jeff Keppinger grounded out to David Wright. Collins believed so fairly early, too.
"In the fifth inning I said, 'I think tonight he's going to pitch a no-hitter,'" Collins said. "He was throwing any pitch he wanted to for a strike, pitched out of the zone when he wanted to. ... You were just saying, 'This is the night. This is the night.' He's got everything going. Of course, it took the ball hitting the right spot to get a hit.
"To pound the strike zone like he did today, you just don't see young guys do that," Collins added. "You really don't. Not with that power arm like that."
Said White Sox manager Robin Ventura: "He's as advertised. ... He's got about as pretty much dominant stuff as anybody we've seen. Kind of the [Justin] Verlander stuff that you see. It's velocity. It's movement. Just presence. Everything. He had it all. He's impressive."
Harvey had flirted with a no-hit bid in Minnesota on April 13, until Justin Morneau produced a two-out homer in the seventh. That outing paled in comparison to this, according to Harvey.
"In Minnesota I was kind of lucky," Harvey said. "I was throwing pretty hard. It was really cold."
Tuesday night, Harvey received a no-decision because the Mets took until the 10th to score. He had asked to pitch in extra innings with his pitch count at 105, but "knew it wasn't going to happen."
Harvey actually spent part of his midday monitoring angry and misguided tweets directed at him. PR man Jay Horwitz had tweeted that Harvey would be excused from Wednesday's Mets game to watch his beloved New York Rangers play at Madison Square Garden. It was a joke that some took literally.
"He's getting a little aggressive with the tweeting," Harvey said.
Harvey has what he labels a "24-hour rule." He will allow himself to enjoy this outing until about the first pitch of Wednesday's game (or puck drop for Rangers-Capitals). Then Harvey will start his intense focus for Sunday's start against the Pittsburgh Pirates.
As for what he was feeling during Tuesday's game, considering the Mets had not scored, Harvey said he was in a lighthearted mood despite the 0-0 tie. When John Buck short-hopped a throw back to him, Harvey said he jokingly gave the catcher an intense stare.
"Yeah, I was having fun," Harvey said.