While a prep athlete in Tulsa, Okla., Matt Reynolds strongly considered playing college basketball instead of baseball. A point guard, he received interest from Iowa State as a walk-on as well as from Butler, Furman and "a little bit" from Kansas.
When he got to his senior year, though, Reynolds decided college baseball could provide him the best future. So he enrolled at the University of Arkansas and parlayed that into getting drafted in the second round last year by the Mets.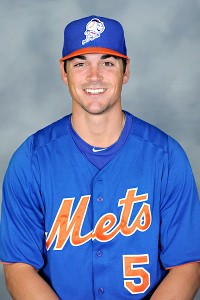 Courtesy of New York Mets
Matt Reynolds
"I loved both sports. Both of them were my passion," Reynolds said. "It was a tough decision to give up basketball. And if I decided to play basketball, it was going to be a tough decision to give up baseball. But I realized baseball was where my future was at, and I loved it equally."
Where would he be now if he had chosen hoops?
"I'd still be in college, finishing up my degree," Reynolds said. "That's for sure."
Reynolds, 22, is hitting .264 with one homer and 15 RBIs through 110 at-bats as the shortstop for Class A St. Lucie.
He actually primarily played third base in college with the Hogs, but exclusively has moved back to shortstop in pro ball.
"I played shortstop all of high school," Reynolds said. "I went into college as a shortstop. I played shortstop my freshman year and got hurt [with a borderline stress fracture in a shin]. I came back my sophomore year and we needed a third baseman. Our other shortstop [Tim Carver] played well. So they put me at third for an extra bat out there."
Said St. Lucie manager Ryan Ellis: "I was actually very surprised to hear he was a third baseman in college. I'm thinking if he's playing third, who the heck is playing short? … He's like an extra pitcher on the field. He's moving the guys around. He seems to always be in the right place at the right time. With that said, tools-wise, I think he's a little bit limited running. But his bat, I think potentially, he can show a little more pull-side power the more experience he gets. He has a very strong arm."
In his first pro season, Reynolds hit .259 with three homers and 13 RBIs in 42 games at low-A Savannah after the draft in 2012.
"I feel like the SEC prepared me for pro ball, especially in low-A -- just the velocity part of pitchers," Reynolds said. "In the SEC we're facing [Kevin] Gausman and Bobby Wahl and all those types of guys that are first-rounders, or who are going to be first-rounders."
One thrill for Reynolds so far: He was borrowed from minor league camp and appeared in three Grapefruit League games. He had an RBI double against Detroit's Jose Alvarez on March 24 and a single against St. Louis' Nick Greenwood two days later before his perfection finally got spoiled on the last day of spring-training play, on a grounder to third against Baltimore sidearmer Darren O'Day.
"The third baseman made a diving play and screwed me a little bit," Reynolds said with a laugh.
Organization leaders
Average: Kevin Plawecki, Savannah, .400; Jayce Boyd, Savannah, .381; Andrew Brown, Vegas, .367; Juan Lagares, Vegas, .346; Brandon Nimmo, Savannah, .322; Josh Satin, Vegas, .313; Jamie Hoffmann, Vegas, .305; Cory Vaughn, Binghamton, .291; T.J. Rivera, St. Lucie, .290; Rylan Sandoval, St. Lucie, .284.
Homers: Dustin Lawley, St. Lucie, 6; Kevin Plawecki, Savannah, 5; Aderlin Rodriguez, St. Lucie, 5; Josh Satin, Vegas, 5.
RBI: Jayce Boyd, Savannah, 28; Kevin Plawecki, Savannah, 28; Andrew Brown, Vegas, 27; Dustin Lawley, St. Lucie, 22.
Steals: Alonzo Harris, Binghamton, 11; Darrell Ceciliani, Binghamton, 8; Cesar Puello, Binghamton, 7; Danny Muno, Binghamton, 5; Brian Bixler, Vegas, 4; Stefan Sabol, Savannah, 4.
ERA: Rainy Lara, Savannah, 1.45; Domingo Tapia, St. Lucie, 2.23; Hansel Robles, St. Lucie, 2.36; Noah Syndergaard, St. Lucie, 2.90; Matt Bowman, St. Lucie, 2.95; Collin McHugh, Vegas, 2.98; Robert Gsellman, Savannah, 3.00; Logan Verrett, Binghamton, 3.49; Rafael Montero, Binghamton, 3.54.
Wins: Matt Bowman, St. Lucie, 5; Rainy Lara, Savannah, 4; Logan Verrett, Binghamton, 4; Gabriel Ynoa, Savannah, 4.
Saves: Jeff Walters, Binghamton, 8; Bret Mitchell, Savannah, 4; T.J. Chism, St. Lucie, 3.
Strikeouts: Rafael Montero, Binghamton, 48; Zack Wheeler, Vegas, 40; Matt Bowman, St. Lucie, 33.
Short hops
• St. Lucie outfielder Travis Taijeron has been named Florida State League player of the week. Taijeron, an 18th-round pick in 2011 from Cal Poly Pomona, hit .474 with one homer and six doubles in six games through Sunday. Third baseman Aderlin Rodriguez also has heated up with the FSL club. Rodriguez is 7-for-17 with two homers and nine RBIs in his past four games, which has upped his season average to .218.
• Mets third base coach Tim Teufel got a treat during Monday's off-day. Teufel watched his son Shawn Teufel pitch three scoreless innings in relief for Binghamton at Trenton. It was the first time the elder Teufel had seen his son pitch since Pedro Feliciano helped the 26-year-old left-hander drop down to a submarine arm slot from a conventional delivery earlier this year.
• Binghamton outfielder Cory Vaughn has been out since April 29 with a sprained ulna collateral ligament in his right, throwing arm. Vaughn has started throwing lightly and is taking batting practice. Vaughn had been off to a solid start with the B-Mets. He is hitting .291 with four homers, 17 RBIs and three steals and has a .391 on-base percentage through 92 plate appearances.
• Right-hander Jeff Walters, whose eight saves with Binghamton lead the Eastern League, has an interesting distinction. Walters was drafted five times -- out of high school, twice out of junior college, then after his junior and senior years at the University of Georgia. He signed after being selected in the seventh round by the Mets in 2010. Told getting drafted five times must be some type of record, Walters said he actually knows another person who experienced it -- his former high school pitching coach, Randy O'Neal, who ended up being the 15th overall pick in the 1981 draft by the Detroit Tigers the final time.
• Left-hander Jack Leathersich continues to put up gaudy strikeout totals. He now has 27 in 15 innings with the B-Mets and 166 in 99 2/3 professional innings since getting drafted in the fifth round in 2011 out of UMass Lowell. Leathersich isn't a flamethrower. He sits at 91-94 mph. Nor is he particularly tall. He's listed at 5-foot-11. But he does make it difficult to pick up the ball and is getting hitters to chase fastballs up and out of the zone.
• Brandon Nimmo still has not returned to the lineup since April 29 because of a bruised hand. The Mets have not believed Nimmo's issue is serious, but will get him checked out as the absence lingers.
• Matt Bowman made his Florida State League debut Tuesday after being promoted from Savannah, where he went 4-0 with a 2.64 ERA in five starts. Bowman, a Princeton product who has a Tim Lincecum-style delivery, earned the win against Daytona in his first FSL appearance. Robert Gsellman, who had been plugging a spot with St. Lucie, went to the Gnats to take Bowman's spot.
• Kirk Nieuwenhuis and Collin Cowgill both will see center-field action with Las Vegas.
• The Mets planned to get Feliciano to a higher level of the minors than St. Lucie by now, but Feliciano's food-poisoning issue slowed the ascent.
• The Mets are taking it slow with Michael Fulmer as he returns from surgery to repair a torn meniscus. Fulmer has not pitched again in a game since throwing two innings in an extended spring training game last Monday.
• Right-hander Luis Mateo is making progress with a throwing program after leaving his Double-A debut April 15 with elbow inflammation. He was due to throw a bullpen session either yesterday or today.