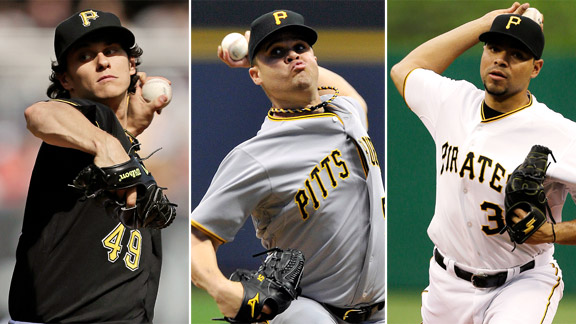 Associated Press
The Mets face (l to r) Jeff Locke, Wandy Rodriguez and Jeanmar Gomez during a four-game weekend series, plus Francisco Liriano making his Pirates debut.
METS (13-17, fourth place/NL East) vs. PITTSBURGH PIRATES (18-15, second place/NL Central)
Thursday: RHP Dillon Gee (2-4, 6.16) vs. LHP Jeff Locke (3-1, 3.21), 7:10 p.m. ET
Friday: RHP Shaun Marcum (0-2, 7.20) vs. LHP Wandy Rodriguez (2-2, 4.02), 7:10 p.m. ET
Saturday: LHP Jonathon Niese (2-3, 4.66) vs. LHP Francisco Liriano (0-0, -.--), 1:10 p.m. ET
Sunday: RHP Matt Harvey (4-0, 1.28) vs. RHP Jeanmar Gomez (2-0, 2.38), 1:10 p.m. ET
Pirates short hops
• Left-hander Francisco Liriano is expected to be activated from the disabled list to make his Pirates debut Saturday. Liriano originally agreed to a two-year, $12.75 million deal with Pittsburgh. Before he had taken a physical, he suffered a broken humerus bone in his non-throwing arm. Officially, Liriano suffered the injury slamming his arm on a door to scare his children, although multiple other stories have floated around. Liriano's substitute deal calls for only a guarantee of $1 million, although he has a vesting option for next season and can earn roughly the same amount as the original deal if he produces.
Liriano, 29, went a combined 6-12 with a 5.34 ERA in 34 appearances (28 starts) for the Minnesota Twins and Chicago White Sox last season. Bounced from Pittsburgh's rotation is Jonathan Sanchez (0-3, 11.85 ERA), who was designated for assignment by the club.
• Leadoff hitter/left fielder Starling Marte led off Wednesday's game against the Seattle Mariners with a double -- his 17th leadoff hit of the season (whether top or bottom of the first inning). Nobody else in the majors has more than 10. Marte, who made his major league debut last July 26, has displayed a phenomenal blend of reaching base (.396 OBP), speed (10 steals) and power (five homers). He particularly jumps on fastballs.
• Right-hander Jeanmar Gomez will stick in the rotation and make his third start of the season Sunday. Gomez -- previously the long man in the bullpen -- stepped in for James MacDonald, who now has landed on the disabled list with shoulder soreness after experiencing a pronounced velocity drop.
Gomez, who was acquired from the Cleveland Indians in January, limited the Mariners to two hits and two walks in a 66-pitch effort over five scoreless innings Wednesday. His season-high pitch count was 79, in a May 1 start at Milwaukee.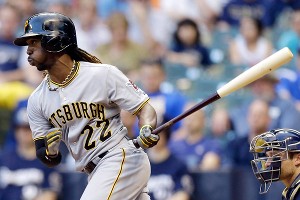 Jeffrey Phelps/Associated Press
Two-time All-Star Andrew McCutchen has heated up the past week.
• The back end of the Pirates' bullpen is particularly formidable. Pittsburgh is 14-0 when leading after seven innings. Set-up man Mark Melancon -- originally a Yankee before being traded away in the Lance Berkman deal with the Houston Astros in 2010 -- has surrendered only one run in 17 innings this season. Closer Jason Grilli, a Seton Hall product, is tied for the major league lead with 13 saves and has converted every chance.
• The Yankees let catcher Russell Martin depart as a free agent to Pittsburgh for a two-year, $17 million deal on Nov. 29. Martin, who was scratched from Tuesday's start with neck stiffness and did not play Wednesday, leads the Pirates with six homers. After opening his Pirates career in a 2-for-31 rut over his first 10 games, Martin since is hitting .377 (23-for-61). His next homer will be the 100th of his career. Martin has thrown out an MLB-leading 223 runners since his debut in 2006, according to the Elias Sports Bureau.
• Two-time All-Star center fielder Andrew McCutchen has two four-hit performances in his past seven games. McCutchen is signed through 2017, with a team option at $14.5 million for the following season.
• Third baseman Pedro Alvarez, a former second overall pick in the draft and a product of Horace Mann School in Riverdale, is hitting .168 with 38 strikeouts in 107 at-bats.
• This could be the year the Pirates produce their first winning record since going 96-66 in 1992, with a squad that included Barry Bonds, Andy Van Slyke, Doug Drabek … and Terry Collins as bullpen coach. It was Collins' first year on a major league staff.
Pittsburgh was 16 games over .500 on Aug. 8, but finished 79-83 in 2012.
The 20 consecutive losing seasons is a North American professional sports record. The NBA's Kansas City/Sacramento Kings (1983-98) and NHL's Vancouver Canucks (1976-91) each suffered 15 straight losing seasons. The NFL's Tampa Bay Buccaneers (1983-96) had 14 straight losing seasons.