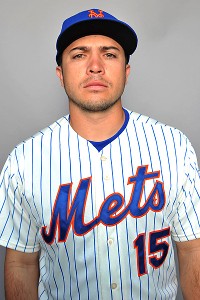 Steve Mitchell/USA TODAY Sports
Travis d'Arnaud suffered a broken bone in his left foot April 17.
Catching prospect Travis d'Arnaud, who suffered a fractured first metatarsal in his left foot with Triple-A Las Vegas last month, is due to be examined in New York on May 17. After that, d'Arnaud may be able to begin rehabbing from the injury in Port St. Lucie, Fla.
He currently remains in a walking boot.
"A lot of resting. Just stay off my foot and trying to keep it elevated so it can heal back to 100 percent," d'Arnaud told freelance journalist Robert Brender. "I'm in a boot that I've been wearing all the time, except when I sleep."
The original timetable estimated a mid-June return to games.