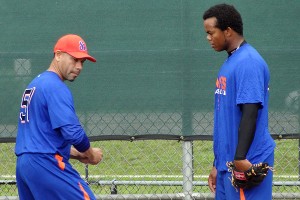 Adam Rubin
Pedro Feliciano works with St. Lucie's Wanel Mesa on the prospect's delivery before pitching last Thursday in Fort Myers.
Pedro Feliciano is on the disabled list with Class A St. Lucie. Feliciano officially was placed on the Florida State League team's DL with food poisoning. He had seemed to be over the issue when he resumed pitching with the club last Thursday.
Feliciano's food poisoning is known as ciguatera. According to the government's Centers for Disease Control and Prevention:
"Ciguatera fish poisoning (or ciguatera) is an illness caused by eating fish that contain toxins produced by a marine microalgae called Gambierdiscus toxicus. People who have ciguatera may experience nausea, vomiting, and neurologic symptoms such as tingling fingers or toes. They also may find that cold things feel hot and hot things feel cold. Ciguatera has no cure. Symptoms usually go away in days or weeks but can last for years. People who have ciguatera can be treated for their symptoms."